ADVERTISING DISCLOSURE
ADVERTISING DISCLOSURE:
Credit-Land.com is an independent, advertising-supported web site. Credit-Land.com receives compensation from most issuers whose offers appear on our site. Compensation from our advertising partners impacts how and where their products appear on our site, including, for example, the order in which they may appear within review lists. Credit-Land.com has not reviewed all available credit card offers in the marketplace.
Low Interest & 0% Intro APR Cards to

Pay Your Medical Bill
Medical procedures are never cheap and little help is always welcome. Regular check-ups, as well as unexpected medical expenses, can be paid with a credit card. However, high interest rates may end up pushing you into debt. Therefore, it's wise to consider your options before you pay a hospital bill with a credit card. Look for credit cards that have a 0% intro APR to have time to pay off your medical bill before the interest starts accruing. Low interest credit cards may also come with rewards programs or no annual fees giving you an opportunity to save money on medical expenses. Below we took our partners' best 0% intro APR credit cards and compared them.
Show more
Low credit score?
Click here
. Offers below are for GOOD & EXCELLENT credit only.
Compare
popular credit cards

to find the best VIEWING

0-0

of

0
Compare travel credit cards to find the best
VIEWING

1 - 4

of

12
Special financing options starting from 6 months of no interest are available under certain conditions.9 $comm_9 = "yes"; ?>
0% intro on purchases (for 15 months)
29.99%9 $comm_9 = "yes"; ?>
19.99% - 29.99% (Variable)
19.24% - 29.24% (Variable)
20.24% to 29.99% variable purchase APR based on creditworthiness. Rates as of 8/1/2023
Only at Enrolled Providers9 $comm_9 = "yes"; ?>
Can be used for health and wellness needs9 $comm_9 = "yes"; ?>
Consider this when
paying medical bills
WITH A CREDIT CARD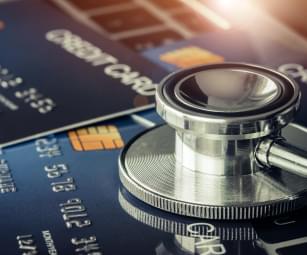 Low Interest or 0% APR Promo
When you want to use a credit card to pay your medical bills, your best choice is to apply for a 0% intro APR credit card. Just make sure you know all ins and outs of the promotional offer. With a regular credit card, you can look for a card with the most suitable 0% promotional period - 12, 14, or 18 months of 0% intro APR and have more time to pay off your medical bill. Make sure you always pay on time or you may lose your promotional rate. Also, be sure you can pay the card bill in full by the end of the zero promotional period. If you don't, any unpaid balance will begin to accrue interest. So factor that into your calculations.

If you used a high-interest credit card for medical expenses, you can apply for a balance transfer credit card. The best balance transfer credit cards give you a year or more to pay off the transferred balance at 0% promo APR. Moving your medical debt to a 0% balance transfer credit card can help you make medical bill payments more manageable, and you won't be overwhelmed by interest charges. The only drawback of transferring the medical debt is a balance transfer fee. However, it is often cheaper to pay the balance transfer fee than to pay high interest.
Show more
APPLY NOW
on Discover's secure website
INTRO OFFER: Unlimited Cashback Match – only from Discover. Discover will automatically match all the cash back you've earned at the end of your first year! There's no minimum spending or maximum rewards. You could turn $150 cash back into $300.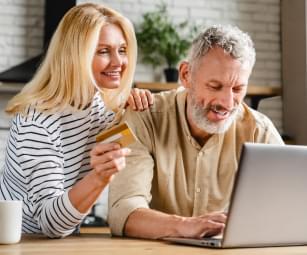 If you want to use a rewards credit card to pay your medical bill, make sure you won't get carried away or you may end up with a debt that may ruin your credit score. Remember, credit card interest will cost you far more than you'll earn in rewards. Therefore, you will need to use your rewards credit card strategically and plan in advance.

Unexpected medical expenses or a surprise medical bill can be put on a rewards credit card only if you are sure you will be able to pay them off quickly and preferably the same billing cycle. Otherwise, the interest that accrues will eat all earned rewards. However, if your rewards credit card also has a 0% intro APR, you may have more time to pay off the card balance without accruing interest and keep all your points or miles intact.

If you have a rewards credit card with a welcome bonus offer and you are sure you will be able to pay the balance in full, a medical bill might help you to spend the amount required to qualify for the bonus offer. Those bonus points can be used as a statement credit toward your credit card balance or you can keep accruing rewards for future travel.

Many rewards credit cards can also come with no annual fee in addition to a 0% intro APR offer and the rewards program. Such cards are always the best bet for paying medical expenses. Plus, you can keep using them for everyday purchases and enjoy all the perks the card has to offer.
Show more
APPLY NOW
on Capital One's secure website
Earn a bonus of 20,000 miles once you spend $500 on purchases within 3 months from account opening, equal to $200 in travel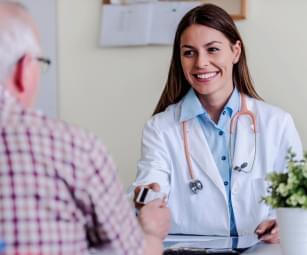 Medical credit cards may also look like an option for paying your hospital bills. Well, these are the most tricky cards and you should always read the fine print before you apply.

Many medical credit cards offer deferred interest plans based on the cost of your medical treatment. That means, first of all, that the period of no interest may not be as long as you expected, and, secondly, deferred interest is not completely 0% interest. If you are unable to pay off the card balance by the time the deferred interest period ends, the credit card issuer will charge the full interest back from the date of the first charge. And since medical credit cards come with high interest rates, you may end up owing much more than you anticipated.

While many medical cards do come with financing offers allowing you to avoid any additional interest, they rarely offer rewards. That means your potential savings might be lower than with a rewards credit card. Another drawback of health-related credit cards is that they can only be used for medical-related expenses. Plus, many of them are only accepted by specific providers and may cover only a limited range of medical expenses. So if you want to pay a vet bill with your medical credit card, you might not be able to do so.


Show more
APPLY NOW
on Discover's secure website
UNLIMITED BONUS: Only Discover gives you an unlimited match of all the Miles you've earned at the end of your first year. For example, if you earn 35,000 Miles, you get 70,000 Miles. There's no signing up, no minimum spending or maximum rewards. Just a Miles-for-Miles match.
September 2023


Best credit offer for poor credit

GREAT LOAN OFFER FOR ANY CREDIT
Max. Loan Amount

$100,000

Min. Loan Amount

$1,000

Min. Income Required

See terms

Min. Age of a Borrower

18
HAVE DIFFERENT CREDIT HISTORY?
See offers for your credit:
questions ABOUT
MEDICAL CREDIT CARDS
NEED HELP TO CHOOSE A CARD?
Ask our Experts and get free advice to your email!
ASK QUESTION
comments ABOUT
MEDICAL CREDIT CARDS🜂