The content is accurate at the time of publication and is subject to change.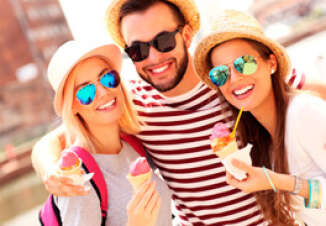 If you are feeling like you need to up your fun factor you're not alone, according to a new study. While almost all Americans (97%) are open to having more fun in their life and know it's important, it's just not happening. More than half (58%) of respondents indicated that its hard for them to live a life that is happy and fun, while 4% intentionally limit how much they have on a daily basis.
As you may have guessed, having fun can be good for your health, and visa versa. Plus having the ability to find moments of fun in your day-to-day life is a great way to lower stress and take the edge off, according to Dr. Emma Seppälä, Stanford University's expert on the science of happiness, health and success, as well as the author of The Happiness Track.
Dr. Seppala teamed up with Chase to share her findings on why having fun matters and why it's important to find time for it. "If we focus on boosting fun and happiness in our lives, even in little ways, research suggests we can end up more productive, charismatic, energetic and innovative," said Dr. Seppälä. "The Chase Freedom Unlimited Card survey results suggest that there are unlimited opportunities for fun in everyday moments, experiences and things."
The Chase Freedom Unlimited Credit card wants to help
The Chase Freedom Unlimited card was released last month. It offers 1.5% cash back and the amount one can earn is unlimited. People also earn a $150 bonus after they spend $500 during the first three months, along with another $25 if they add an authorized user to their account. The card also comes with some built-in perks including: Zero Liability Protection, Chip-Enabled Security, Purchase Protection, Price Protection and Auto Rental Collision Damage Waiver.
Chase is hoping that people will use their cash back to up their fun factor. "Our customers use their cards for the essentials in life and enjoy their cash back for fun things," said Pam Codispoti, president of Chase Branded Cards. "Our new Freedom Unlimited card gives people 1.5% cash back on everything they buy and they can use their cash back for little things like coffee or save them up for a larger event like a spa day."
The Chase Freedom Unlimited survey was conducted from March 21 to 23 and included responses from 1,013 Americans aged 18 and up.