The content is accurate at the time of publication and is subject to change.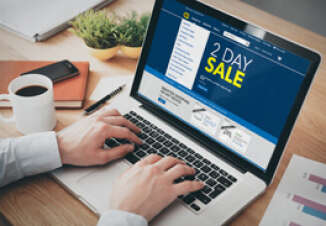 Best Buy carries everything from smartphones and TVs to computers and cameras – and now people who shop with them will be able to use Chase Pay when shopping online.
JPMorgan Chase signed the retailer to a multiyear deal in which customers will be able to use Chase Pay at Best Buy stores, on the website and via the Best Buy app, although right now Chase Pay is available just for online purchases made via member merchants. Chase indicates that it will be available to be used via the app and at registers later in 2016.
This partnership is seen as a way for the two companies to grow their relationships with consumers, while also giving them a wider range of choice when it come to making payments.
"We'll partner with Best Buy to deepen relationships with our common customers by integrating offers and rewards into the payment experience to deliver a seamless experience at the point of sale," said Jennifer Roberts, president of strategic alliances and loyalty solutions for Chase.
Best Buy becomes part of growing lineup of merchants offering their customers access to Chase Pay, including Wendy's, Shell, Old Navy, and the Gap.
Using Chase Pay
People who have a Chase Visa card can start using Chase Pay right away when shopping at merchants that take the payment method. Once at checkout they pick the Chase Pay, accept the terms and conditions, and put in their password – at that point the payment will go through.
As is the case with other mobile wallets Chase Pay creates a token, which is transmitted to retailers rather than users account number to enhance security when making payments. Chase calls this their Chase Pay device account number, and it is used across all devices and is connected to their chase.com accounts.
It is important to note that at this time Chase Pay does not work with Business credit cards, Business debit cards or MasterCard. They indicate that they will add additional payment card options as time goes on.
Automatic updates and business as usual
Once you begin using Chase Pay if you have a new card, or your card was lost or has expired, the system will automatically update your information.
Whether paying with a Chase Visa card or using Chase Pay cardholders still get the same benefits, and earn rewards as usual.