The content is accurate at the time of publication and is subject to change.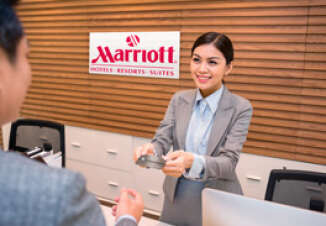 For small business owners heading out for a personal vacation equals an upswing in their productivity, according to a new study, with two-thirds saying that it gives them a boost in creativity, focus and motivation.
Yet knowing this does not translate into actually taking a vacation, with just 25% reporting that they are able to take some downtime. And for just about 75% taking time off means that they will worry about work and what they are not doing while they are away.
The study released by Marriott Rewards Premier Business Credit Card looked at travel trends among small business owners finding that while there are some very real upsides to being the boss, it can also mean that they miss out on certain kinds of perks.
"While small business owners enjoy making their own schedule and being their own boss, they often miss out on perks such as guaranteed paid time off," said Vibhat Nair, general manager, Chase Card Services. "As some of the most dedicated workers in the country, small business owners deserve a break and this survey shows they are finding time off while traveling for business."
New benefits for Marriott Rewards
The Marriott Rewards Premier Business Credit Card now comes along with some new benefits, designed to make it easier for business owners to get away and take some much needed time off. Part of this is getting Gold Elite Status faster, so now all cardholders have access to what they are calling an enhanced path to Gold Elite Status when charging $50,000 a year.
Plus for new cardholders there is a new added advantage-they earn a 100,000 point bonus with a spend of $5,000 on purchases, whether that's travel, eating out or anything else, during the first three months.
Some things remain the same, including earning five points per dollar when staying at Marriott hotels around the world, and earning double points on airline tickets (bought via the airline) car rentals, restaurants, office supply stores, and for Internet, cable and phone services.
They earn one point on everything else. There is a $99 annual fee for this card.
The Marriott Rewards Premier Business Credit Card survey was conducted online from April to 29, 2016. It was taken by 1,001 small business owners who employ 99 people or less. This demographic was people 25 years old and up who traveled for work a minimum of three times a year.