The content is accurate at the time of publication and is subject to change.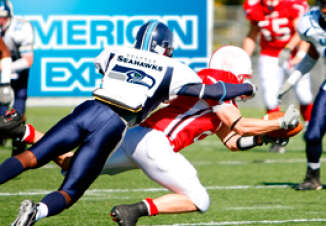 Just in time for the football season, American Express and the Seattle Seahawks have inked a deal, one that for Seahawks fans means getting in on all sorts of unique Seahawks-themed experiences, giveaways, and benefits, including player meet-and-greets, pregame events, Blue Friday giveaways and access to the Section 12 Card Member Club.
The first pre-game event is set to kick off Sunday, September 27 at Occidental Park right before the Seahawks take on Chicago, starting at 9 a.m. and wrapping up at 1 p.m. If you're an Amex cardholder you can step into the Section 12 Card Member Club, where you can check out the free snacks and exclusive giveaways, as well as take part in intimate meet-and-greets with former Seahawks players.
There will also be events for non-cardholders outside the club.
Blue Fridays are all the rage
American Express will be working with Seattle merchants to create what is being called Blue Friday, due to the Seahawk fans—also known as"12s"–tradition of wearing blue Seahawks gear on Fridays.
Leading up to game day, Amex and select merchants have some surprises in store, which mean anything from scoring special Autographed Seahawks gear to getting in on special Friday meets with their favorite players.
Amex membership pays
So while some of the events are free, American Express cardholders who are part of the 12 legion get some more special perks as well including:
• Gridiron Radios: Play-by-play radios will be given out at CenturyLink Field, letting fans hear commentary and get updates via a Seahawks radio broadcast, while watching the game. The radios will be given to American Express cardholders every home game during the season.
• Exclusive Seahawks Cup Holder: Whenever cardholders use their Amex card to buy a beverage or food at the stadium concession stand they will get a free Seahawks cup holder.
While cardholders will certainly be winners with this deal, excitement is in hyper mode on both sides of this deal. "The 12s are some of the most passionate and loudest football fans in the country," said Anré Williams, president, Global Merchant Services, American Express.