The content is accurate at the time of publication and is subject to change.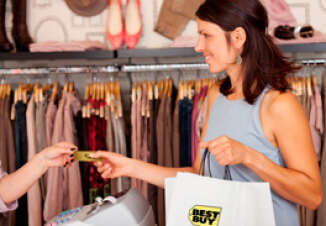 For people looking to use their American Express points to buy tech and electronics online, life definitely just got much better. A new e-commerce technology makes it seamless for them to cash in their Membership Rewards points to pay for all or part of their purchase at Bestbuy.com, whether they want it shipped or they want to head out to their local Best Buy and pick it up.
"In our stores and online at BestBuy.com, our customers expect choice and flexibility from us on how they pay for and receive the consumer electronics they want," said Mary Lou Kelley, president of e-commerce at Best Buy. "We are excited to partner with American Express and allow Card Members the ability to convert their Membership Rewards points into the latest and greatest consumer electronics products and services."
Using those points
The technology American Express used to integrate Bestbuy.com into their system, allows users to see how many rewards points they have to actually use before they check out. People do not have to sign up for this feature and they don't have to put a special code in the menu, it just happens naturally while checking out.
To get started people do their shopping, add their merchandise to the card, and then click open "Your Cart." After letting the system know they want to check out, and they enter their American Express Card, the points they have available automatically displayed. The system also lets them know how much they are worth in terms of dollars and cents.
At this point cardholders can choose how many points they want to apply toward their purchase, whether it's for part of the purchase or all of it. So if their points are worth $500 and they are buying a laptop for $1000, they can opt to use all of their points and pay half, or use less and save the rest for a another day or another purchase. The points people use will be deducted on their next statement.
All that is left to do then is to check out and decide if they want their shipment delivered or they want to pick it up at a nearby store.
For additional information people can visit: amex.co/bestbuy or BestBuy.com/paywithpoints.