The content is accurate at the time of publication and is subject to change.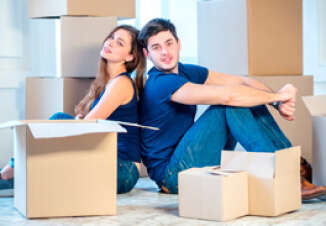 Moving is trending with Americans this year, according to the new American Express Spending & Saving Tracker. It found that almost 42 million (17%) plan to move this year, up 5% from last year when just 12% were getting ready to buy or rent a new place.
In the new study Amex looked at how people were feeling as we move into what is traditionally known as house hunting season, the spring, finding that renting is more attractive than buying which is a shift in the real estate landscape. They also found that roughly a third of Millennials plan on moving, but here too, renting is trending. What about people who aren't moving? They have plans too. Many are gearing up to spruce up their digs to make them feel brand new.
American Express sees this upswing as being a byproduct of economic optimism. "In general, Americans are feeling confident about the economy and their own financial stability, yet they're buying fewer homes," said Jed Scala, senior vice president, Consumer Lending at American Express. "The reason could be a shift in the cultural mindset—especially among Millennials—who value flexibility and freedom, and home ownership could be seen as counter to that."
Its all about rentals
Back in the day buying was all the rage but this year renting is in style, with 53% of people indicating that they will be looking at rentals rather than places to buy. This is the first time in the history of the study, which began looking at this topic in 2012, that so many people have been focused on renting rather than buying.
But buying is still on the agenda for some, with 40% planning to do just that and buy the house or apartment of their dreams, although it does represent a 5% drop from last year when 46% said they would be buying.
While there is a uptick in Millennials looking to move, more will be renting than buying, with 55% planning to rent, and 41% will be buying. Why the focus on renting? They aren't ready to take on a mortgage just yet.
But the stats also suggest that this could change with confidence in the housing market increasing. In fact, Millennials are planning on putting their money where their mouth is, believing that buying will be a good move in the next year or two.
Home improvement trending
Whether they are planning to move or not, 76% of homeowners are planning on doing some home improvements. And are planning to spend $5,100 on average to do it, up $1,000 from last year.
How will they be financing their home improvements? The majority (60%) say they will be shelling out cash, writing a check or digging into their savings. But 25% are waiting on their tax returns to finance getting their homes in shape more.