The content is accurate at the time of publication and is subject to change.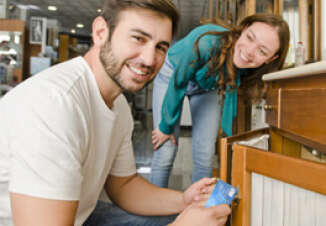 If you are a fan of the At Home stores and are looking to finance a big-ticket purchase, you may be happy to know they have stuck a deal with Synchrony Financial to begin offering customers access to both a Dual Card and a private label credit card. With these cards people can not only finance purchases, but earn rewards as well. The new cards will begin rolling out in the spring of next year.
The deal is seen as being good for customers in terms of added value, and an opportunity for At Home to expand their reach. "Our customers will enjoy the flexibility and convenience a private label and Dual Card consumer financing program will provide them in achieving their home decor needs and desires," said Judd Nystrom, CFO, At Home. "We also look forward to benefiting from Synchrony Financials' vast retail experience and insights as we continue to offer services and convenience designed to attract new customers, deepen our relationship with our loyal customers and grow our business."
Upping the ante for customers
With this new relationship At Home cardholders will get access to key benefits including special promotional financing, rewards, exclusive discounts and other types of benefits. They will also be able to access their accounts through their mobile devices.
People who apply for and get the Dual Card, will be able to use this card outside of At Home stores.
More from Synchrony Financial
This deal comes on the heels of other new relationships being developed by the issuer, including the rollout of the Synchrony Financial Fareportal credit card. A new co-branded credit card, providing access to benefits and rewards on travel sites, which includes CheapOair and OneTravel.
In keeping with the travel theme, they have also partnered up with Cathay Pacific Airways this past summer. This deal includes the launch of the Cathay Pacific Airways Visa credit card, slated to be released early in 2017. This card gives people access to special travel packages, as well as other benefits and perks.
At Home specializes in home decorating merchandise which includes seasonal decorations, furniture, garden, home textiles, tabletop and wall decor, housewares, patios and rugs.