The content is accurate at the time of publication and is subject to change.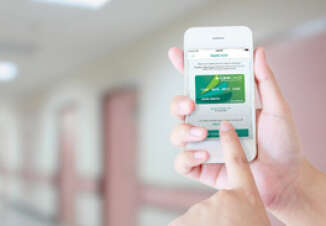 Patients whose medical providers are part of the CareCredit network will now be able to manage their accounts, search for care providers, and pay medical bills via smartphone. Synchrony Financial and CareCredit have launched the CareCredit mobile app, available free from the Apple App store and Google Play. The app also works on smartphones and tablets.
The CareCredit card provides a way for consumers to pay for healthcare and medical expenses, and is accepted by over 185,000 healthcare providers and other health-related retailers such as Rite Aid. It has been around for 30 years, giving folks a way to pay for medical expenses with a dedicated health care credit card.
Secure login, digital cards simplify payments
Users will log in securely to the app in the same way they log into their accounts online and on mobile sites, with the added security step of device authentication. They can also access a digital version of their CareCredit card, so they don't need to bring the card with them to medical appointments or pharmacy trips.
The provider lookup feature will help folks find a conveniently located medical office or drugstore. They can use the GPS location feature to find the closest one to their current location, or type in an address or zip code to find a retailer or service provider in a specific location. Users can search by practice or merchant type, to narrow down their results.
Through the app, people can also enable notifications that will alert them when a payment is due, has been processed, or when a promotion is about to expire.
Researching costs and financing vital for elective healthcare decisions
When electing to have certain procedures or purchase specific health care products, 73% of consumers in a recent study said they'd done research on the costs beforehand, and looked at whether financing was available. The Consumers' Path to Healthcare Purchases Study, conducted by Rothstein Tauber, Inc., on behalf of CareCredit in 2014, confirmed that people want to mull over costs and financing options before deciding on elective procedures or purchases.
Another survey, from eMarketer in October 2015, showed that Americans spend over three hours a day using apps on their phones, up from two hours and 51 minutes in 2014.
Dave Fasoli, of Synchrony Financial said the app provides a way for retailers to engage with customers, and customers to manage their health care costs.