The content is accurate at the time of publication and is subject to change.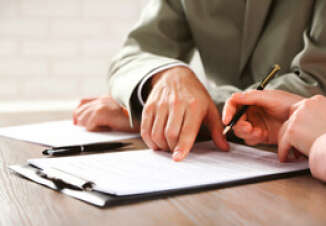 The Consumer Financial Protection Bureau (CFPB) is looking take contract "gotchas" out of everything from credit card contracts to back accounts and payday loan contracts – by removing arbitration clauses so that consumers have more options including the right to sue banks.
The CFPB is proposing prohibiting these mandatory arbitration clauses in contracts because they not only take going to court out of the equation for consumers, but also prohibit them from banding together to recoup damages.
Right now the only recourse they have is to go it alone in arbitration. According to the CFPB, with this new rule companies could no longer sidestep due process. "Signing up for a credit card or opening a bank account can often mean signing away your right to take the company to court if things go wrong," said CFPB Director Richard Cordray.
"Many banks and financial companies avoid accountability by putting arbitration clauses in their contracts that block groups of their customers from suing them. Our proposal seeks comment on whether to ban this contract gotcha that effectively denies groups of consumers the right to seek justice and relief for wrongdoing," he added.
If these new regulations are instituted, consumers will have their day in court, be able to bring class action lawsuits, and for those who continue to use arbitration clauses the process will be far more transparent.
Arbitration clauses have become standard
In recent years, standard contracts for everything from credit card to bank accounts include mandatory arbitration clauses, which as you may have guessed affect hundreds of millions of consumers. The clauses usually spell out that the issues between the company and consumers can only be resolved using an arbitrator. The only exception would be cases that go before a judge in a small claims court.
What does this mean for consumers? It can be used to block lawsuits, and make it impossible for them to come together to go before an arbitrator. So in the end no matter how many people are affected by the same issue, they have to resolve their issues one by one.
Dodd-Frank paved the way
When the Dodd-Frank Wall Street Reform and Consumer Protection Act was passed, Congress mandated that CFPB take a close look at the use of mandatory arbitration clauses. They also empowered them to create regulations that protect consumers if need be, and in this case they clearly feel like there is a need.