The content is accurate at the time of publication and is subject to change.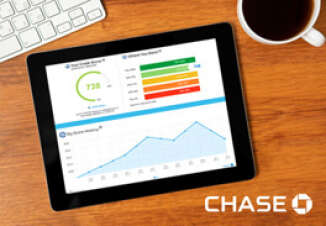 If you are looking to get your credit score and learn more about what it means for you in terms of your financial future, you may want to check out the new website being launched by Chase Card Services, offering people access to their credit score for free. But that's not all. The site also offers resources that lets people get a better understanding of their score, access information on how to use it to make key decisions, and tips on how to improve their financial health.
Rolling out this site, which is aptly called Chase Credit Journey, is seen by Chase Card Services as a way to help consumers increase their financial health by getting up close and personal with their credit score.
"Knowing your credit score is the first step on your financial journey," said Pam Codispoti, President of Chase Branded Cards. "Our new site helps you understand your credit score and gives you tips on how to improve it – so you can achieve your financial goals." The site, score and tools are available to consumers in the U.S.
Chase Credit Journey can be used by everyone, regardless of whether or not they have a Chase credit card or bank account. People can get more information or sign up for the service via the website.
Chase Credit Journey – free score, alerts, and score simulator
Chase's Credit Journey was designed to help consumers get the information they need to make financial decisions with confidence. Part of this means getting a free credit score, so they will get their VantageScore 3.0, which is provided by TransUnion.
The VantageScore 3.0 is based upon data that comes directly from actual credit reports, and every week the information is refreshed, so they can keep up to date with changes in their score. They also get alerts letting them know if there are any issues. They also get the analysis of their credit score, and if they are wondering where they stand in comparison with other Americans they can get that information too.
Chase has also set up a Score Simulator, which offers people a way to test drive certain financial decisions and actions to see how they affect their credit score, so they know ahead of time where their choices may take them and their score.
People will also get a summary of key aspects of their credit score picture, including their total credit balance and credit utilization rate, as well as their late payment report spanning all credit accounts.
Graphs and tailored insights
While on the site people can also look at their credit score history via an easy-to-use graph. It starts with their credit score on the day they register, and keeps going in twelve month intervals.
They can also get insights into the factors that go into creating their credit score tailored just for them, all designed to assist them with managing their financial wellness.