The content is accurate at the time of publication and is subject to change.
This content is not provided by Citi. Any opinions, analyses, reviews or recommendations expressed here are those of the author's alone, and have not been reviewed, approved or otherwise endorsed by the Citi.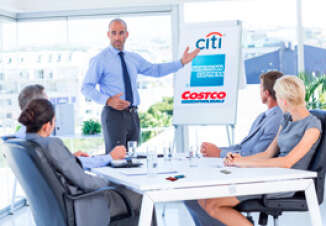 Citi, a Credit-Land.com advertising partner, and American Express have sealed the deal, paving the way for Citi to take over Costco's U.S. co-branded credit card portfolio. The changeover was originally announced last year, and now that they have come to an agreement the sale and transfer is scheduled to be complete by June. How much is the portfolio worth? The actual amount of the sale has not been released, but American Express has said that they expect an influx of about $1 billion from the sale.
Once the sale is complete, Citi will be the official issuer of the Costco credit cards. More information about what the new card will look like and its benefits will be available in coming months. They will also be sending out information to already existing cardholders about their new cards.
"We are immensely pleased to have entered into an agreement to acquire the Costco portfolio and look forward to a long-term partnership with Costco and the opportunity to deliver value, convenience and seamless service to their 51 million loyal members across the country," said Jud Linville, chief executive officer, Citi Cards.
A long time in the making
Costco and American Express breaking their ties was originally reported in February of last year with irreconcilable differences being cited as the reason for the breakup. That's was when Citi entered the picture inking a deal with the wholesale club to become their one and only issuer, taking over from American Express, with Visa becoming their payment network.
This move meant that while in the past Costco customers shouldn't leave home without their Amex Card since the retailer only took Amex. Now they will have to make sure they have a Citi card on them if they don't want to pay cash.
The Costco Wholesale Corporation is headquartered in Issaquah, Washington. The membership-only warehouse club, was launched in 1976 and currently has 671 warehouse clubs, with stores located throughout the U.S, as well as overseas.