The content is accurate at the time of publication and is subject to change.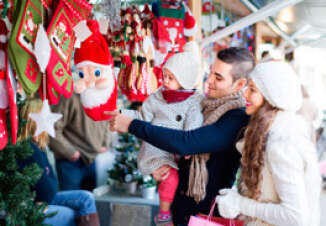 If you're holding off on doing your holiday shopping you are not alone, according to the new American Express Tracker. Nearly two-thirds (66%) of people polled are planning on shopping the day after Christmas, which is more than on either Black Friday (45%) or Cyber Monday (47%). But many will also be doing some last minute shopping before the big day, with 73% admitting that they will be out picking up gifts on Christmas Eve.
The Tracker looked at shopping trends this holiday season, finding that both last minute and post-Christmas shopping is popular, partially due to the fact that shoppers are very deal focused this season.
"Black Friday and Cyber Monday are no longer the only days for big savings, as savvy shoppers have come to expect an entire season of discounts and deals," said Jed Scala, senior vice president, Consumer Lending at American Express. "As we enter the final stretch of the shopping season, we are seeing a growing preference to complete shopping online, possibly connected to the stream of enticing retail offers in consumers' in-boxes."
Re-gifting anyone?
Budgets are a necessity for holiday shopping, and this year is no different, with 73% of people making a budget and trying to stick to it. But saving is also in style, with 53% planning to spend less, which is on par with last year, although 25% admit they probably will go over their limit once they get into the shopping groove.
How are they going to stay out of the red and spend less? For some it means cutting back on self-gifting, while others have found a time-honored, yet often frowned upon solution, re-gifting. While the practice has received a bad rap in the past, this year three out of four people say it is socially acceptable to give away gifts they don't want or need, and 57% are planning on re-gifting this holiday.
What are the top items people will be re-gifting? They are fairly predictable:
1. Kitchenware (22% vs. 20% in 2014)
2. Sweaters (17% vs. 15% in 2014)
3. Scarves (15% vs. 12% in 2014)
Is December 26 going to be the new Black Friday?
With people gearing up to hit the stores the day after Christmas, it might just become the next big shopping day promoted by retailers, especially since more people plan to be out this year than ever before. With their top reasons for being out including:
• Self-gifting and taking advantage of sales (38% vs. 34% in 2014)
• Spending the gift cards they will get for the holidays (25% vs. 26% in 2014)
• To stock up on next year's holiday presents (21% vs. 21% in 2014)
The American Express Spending & Saving Tracker was conducted online between November 17 and 19, 2015.