The content is accurate at the time of publication and is subject to change.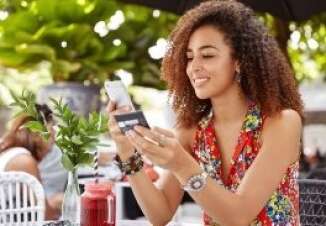 Credit card companies and Banks in the United States are setting the bar when it comes to mobile apps according to a new study from J.D. Power. It found that more people are using these apps and are happy with their design-and they are outperforming other industries in terms of customer satisfaction.
What banks and credit card issuers are in the top three? American Express was tops in the credit card category, scoring 894 out of 1,000 points, and Discover (886) came in second. Capital One (884) snagged third place.
Capital One also took the top spot in the banking category with a score of 888, while BB&T (879) came in second and Chase (876) took third.
In general, the customer satisfaction score for mobile banking apps was up 12 points when compared to last year, hitting 867 out of 1,000 points. Credit card apps are up 2 points, hitting 874. But there is more-43% of people said that using mobile apps had become an important part of managing their accounts.
It's the features
Features mattered to consumers, and the apps that did the best in the study offered users features that were well designed and easy to use, including built-in chat, account management options and a variety of security login options. Here too, credit card and banking apps made out well having a 116-point increase for banking apps, while credit card apps were up 114 points.
With customer satisfaction up for both bank and credit card apps, just about 80% of people said that they fully grasped all the features that came with these apps. But practice made a big difference because satisfaction was up among people who use their apps at least a dozen times during the month when compared with people who used them less.
"While overall satisfaction is improving, one area where both banks and credit card companies continue to struggle is in making sure customers completely understand all features. Currently, fewer than 80% of customers indicate they have a complete understanding of the feature-rich apps being offered by their banks and credit card companies," said Bob Neuhaus, Senior Director of Financial Services at J.D. Power.
How did they come up with these scores for the J.D. Power 2018 U.S. Banking App Satisfaction Study and U.S. Credit Card App Satisfaction Study? They looked at consumers overall satisfaction levels and credit card and banking apps, including ease of use, appearance, clarity of information, services offered, and information availability. It was carried out between April and May 2018.