The content is accurate at the time of publication and is subject to change.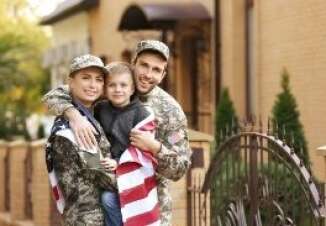 Did you know that May is military appreciation month? Well, it is. And in keeping with this theme, Navy Federal Credit Union is rolling out a variety of special offers for their customers, including offering people who get the Navy Federal More Rewards American Express card bonus points. They can earn 25,000 points with a $3,000 spend over the first three months of having the card.
Navy Federal Credit Union works with people employed by the Department of Defense, members of the Coast Guard and veterans, as well as their families.
"Honoring the military community is what we do every day at Navy Federal. And Military Appreciation Month is the time to turn up the volume on those efforts," said Katie Miller, senior vice president of membership at Navy Federal Credit Union. "We're ramping up everything we do to show our members how much we care."
More savings and offers
There are also other offers on the table this month, including getting up to a 3 percent Annual Percentage Yield when picking up an 18-month or 5-year certificate for $1,000 or more. People who refinance their car loan with Navy Federal Credit Union will get a $250 bonus. It is important to note that the original auto loan must have been financed via a different lender.
Looking for a checking account? When you sign up for a new Active Duty Checking account you get $25 if you initiate a Military Direct Deposit.
The Navy Federal More Rewards American Express Card
With this credit card, people also get access to a variety of other perks and benefits, including picking up pre-sale tickets to a variety of events, concerts, shows and sporting events. This offer is in play as long as you order the tickets via the entertainment website and use your American Express card. People who want to be kept in the loop when tickets and experiences become available can opt to get email alerts.
When eating out, cardholders also get access to freebies and special savings, which include everything from a discount to a free appetizer or wine.
A car can come in handy when traveling and cardholders get up to 25 percent off when renting cars, along with being covered by car rental loss and damage insurance when they use their Navy Federal More Rewards American Express card to pay for their ride. This offer is good for cars rented in the U.S. and Canada.