The content is accurate at the time of publication and is subject to change.
This content is not provided by Citi. Any opinions, analyses, reviews or recommendations expressed here are those of the author's alone, and have not been reviewed, approved or otherwise endorsed by the Citi.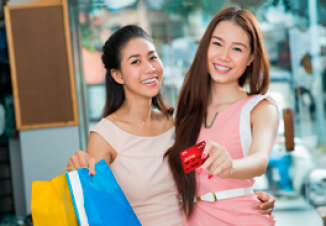 Across the board U.S payment cards of all kinds continue to be hot with consumers last year, according to a new study. But when push came to shove, credit cards outperformed debt and prepaid cards.
The annual study by The Nilson Report focused on spending with U.S. payment cards, showed that over the past five years both consumers and businesses have been pulling out their  credit, debit, and prepaid cards more often to make purchases. This upswing continues with usage up 8.4% in2014 over the year before, totaling $4.910 trillion.
Grand Slam for credit cards
While all cards were experiencing a very real uptick, credit cards took the top spot over debit and prepaid cards with their market share equaling 53.59% in 2014, up from 52.95% (2013).
Cards embossed with the Visa, MasterCard, American Express, and Discover logos earned $2.631 trillion in 2014, which was up 9.7% from 2013.
On the other hand, debit and prepaid cardsJP from those payment networks, as well as those in EFT networks, including Pulse, Star Accel, Interlink, and Nyce, were also up, just not as much, earning $2.279 trillion, outdoing 2013 by 6.9%.
Who's on top and whose not
The Nilson report generated a top ten list with JPMorgan Chase coming out on top with both their commercial and consumer card customers using their credit, debit and payment cards to spend $703 billion in 2014. When compared to other issuers, Chase's payment cards made up 14.32% of all the spending last year, up 20 basis points from 2013.
Wells Fargo came in second with a market share upswing of 18 basis points going up to 7.41%, and Capital One came in third moving up 3 basis points to 4.13%.
Seven other issuers including Amex and Citi, a Credit-Land.com advertising partner, made it into the top ten, but they all saw declines in their purchase power ranging from US Bank losing less than a single percentage point, to Discover taking a big hit and losing seven.
While American Express took a hit on market share volume they retained their top spot as the biggest issuer when looking at credit card purchases. And Bank of America is still the biggest issuer when it comes to prepaid and debit card purchase volume.
The Nilson Report is a newsletter providing global news and analysis of the card and mobile payment industries.