The content is accurate at the time of publication and is subject to change.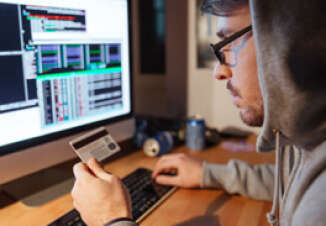 Cyber thieves have had an upswing in income over the last year according to the 2017 Identity Fraud Study by Javelin Strategy & Research, showing that the number of people dealing with fraud has spiked 16%, with 15.4 million U.S. consumers affected by fraud. This is a record high for the Javelin Strategy & Research study, which began looking at fraud in 2003.
Even with the industry working to reduce fraud, the study discovered that cyber thieves netted two million more victims, with the amount stolen going from one billion dollars to 16 billion.
"After five years of relatively small growth or even decreases in fraud, this year's findings drives home that fraudsters never rest and when one areas is closed, they adapt and find new approaches," said Al Pascual, senior vice president, research director and head of fraud & security, Javelin Strategy & Research. "The rise of information available via data breaches is particularly troublesome for the industry and a boon for fraudsters. To successfully fight fraudsters, the industry needs to close security gaps and continue to improve and consumers must be proactive too."
Fraud is up when card is not there
Card-not-present (CNP) fraud was up 40% in 2016, with point of sale fraud holding at 2014 and 2015 levels. All of this is reportedly due to the fact that point-of-sale fraud is getting harder for fraudsters to conduct, as well as the upswing in e- and m-commerce.
The study also found that due to the conversion to EMV technology thieves began opening fraudulent new accounts as a workaround adding to the instances of fraud.
There is some good news in the study: Consumers are much better at spotting fraud, so in the end thieves steal less money.
Account takeover and losses are up
While account takeover incidences and losses hit an all time low in 2014, it was up in 2016. With the total amount ATO losses hitting $2.3 billion, representing a 61% upswing from 2015, while the number of takeovers was up 31%.
In general, account takeovers are very challenging for consumers to deal with, and it typically ends up costing them money, spending an average of $263 out of their own pockets to resolve this kind of fraud.
How many hours a year are consumers dealing with account takeovers? Overall, consumers spend 20.7 million hours a year to resolve it – up 6 million hours from last year.