The content is accurate at the time of publication and is subject to change.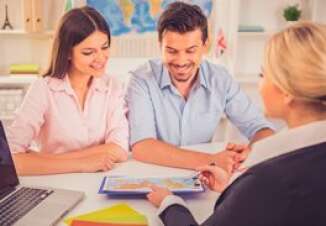 Does credit health factor into romance? The answer is yes, according to the new Chase Slate 2017 Credit Outlook survey. Carrying a lot of debt could be a deal breaker for some people, with 37% saying that it could make them think less of a partner.
Credit is a factor in everything from being approved for a credit card to getting a mortgage, and having the money talk can be an important part of a relationship, but when do you bring it up?
The study found that having the talk later in the relationship rather than sooner, was a trend, with 34% of people waiting until things took a serious turn to bring it up. Very few people wanted to have the money talk on their first date. Yet, here men are more willing to give it a try than women, with just 1% of women willing to have that talk on the first date, while 15% of men are up for it.
Commitment seems to be one of the key components to having a healthy relationship and good credit health, according to Chase. "Credit health and relationships share at least one thing in common – both require commitment," said Farnoosh Torabi, a personal finance expert, and Chase Slate Financial Education Ambassador.
"Before taking the next big step with a potential partner, have a conversation about credit. If you discover that one of you has less than stellar credit, but you are both committed to improvement, then you can begin working together to raise your partner's score by paying monthly bills on time or prioritizing debt reduction," said Torabi.
Credit scores and the talk
Knowing your partner's credit score can be part of having the financial talk, but it can be hard for some to share this information. But not for Millennials, who according to the study are more likely to know their partner's scores, with 58% of married Millennials reporting that they know their partner's score. They have outdone their older counterparts, with just 44% of Gen Xers and 38% of Boomers, who are married, knowing their partners' credit score.
The Chase Slate 2017 Credit Outlook was carried out by Socratic Research, an independent research company, between March 15 and April 3..The survey took place online, and included 1,000 people aged 18 and older.