The content is accurate at the time of publication and is subject to change.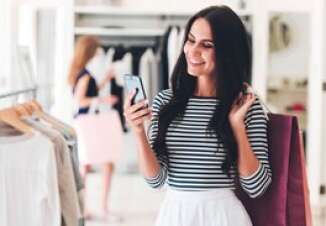 With more and more consumers starting to shop online with mobile apps merchants are seeing increased sales, according to a new study by American Express. But not so fast. Consumers are also security conscious and willing to forgo a purchase if they think security is an issue.
The 2017 American Express Digital Payments Survey suggests that some merchants may be missing out on sales, even with more opportunities coming their way. While 71% of U.S. merchants indicate that digital sales are up, 40% of consumers say that they have stopped making a purchase because they were worried about the safety of their data.
"Digital innovation is enabling consumers to buy from merchants when and where it's most convenient for them," says Mike Matan, vice oresident, Industry Engagement, Product and Marketing, Global Network Business, American Express. "But the results of our survey show that for merchants to capitalize on consumers' continued shift to online and mobile commerce, they need to provide their customers with the confidence that their information is secure."
Merchants see the digital writing on the wall
When speaking with retailers who have an e-commerce platform and physical retail operations, 81% saw sales taking place online with mobile devices being the biggest opportunity their business had for growth.
To take advantage of this opportunity, the data in the study suggests that making security a priority is important, especially with consumers saying that they have stopped a purchase based upon security concerns. For consumers, security and the checkout experience are two major issues when buying via online and mobile platforms.
That said, 90% of consumers in the study indicated that they have at the very least made one purchase online over the past year, while 73% have made three or more purchases using digital platforms.
Digital payment options gaining traction
Along with upping spend via digital channels, consumers are more interested in utilizing digital payment options, with over 70% of people who shop online indicating that they have taken advantage of digital payment services, like mobile wallets, P2P payment apps and one-click checkout buttons.
How often do they use these methods? In the study, 41% indicated that they typically either always or sometimes go with these digital methods when paying online.
While in the past cash was "king" that seems to be waning for both merchants and consumers, with 20% of people admitting that they no longer carry cash, and 46% indicating that they rarely or never reach for cash when making a purchase.
For this study, Amex spoke with 1,020 U.S. based consumers and 401 business leaders in the U.S.