The content is accurate at the time of publication and is subject to change.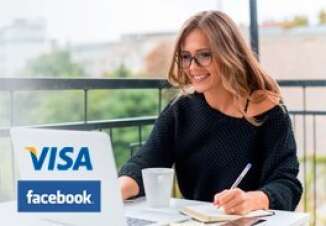 Doing business via social media sites, whether it's selling merchandise or services, is gaining ground, and Facebook is taking steps to keep payment card security on point by joining the Visa Digital Enablement Program (VDEP).
Facebook's partnering with VDEP means they will be offering Visa's Token service to its partners and across its platforms, thereby speeding up the accessibility of secure payment-enabled services and the ability to do business via the social media platform.
What does Visa's Token Service bring to the table? When using a payment card rather than your payment card number being transmitted a one-of-a-kind digital token is generated. This is similar to what happens when people use a chip-enabled card at the register.
This token lets the transaction go through, without sending the card number or other details, thereby adding an additional layer of security. "Being able to offer people a safe, simple and consistent purchasing experience, regardless of where they are and what device they are using, is increasingly critical and is what VDEP is designed to do for a global technology company like Facebook," said Jim McCarthy, executive vice president of innovation and strategic partnerships, Visa.
"Simplifying the relationship between a global technology company and the financial institution clients already utilizing our token services is what VDEP is designed to do – it's an essential part of ensuring these in-demand experiences can be delivered to people as quickly as possible," he said.
Visa & technology
Both VDEP and the Visa Token Service are part of Visa's ongoing efforts to offer businesses safe and effective ways to take payments, as well as support innovative payment technology.
Visa Digital Enablement Program (VDEP) was originally rolled out in 2015, and since then technology associates and financial institution clients have come on board in order to streamline how they provide payment options to their own customers.