The content is accurate at the time of publication and is subject to change.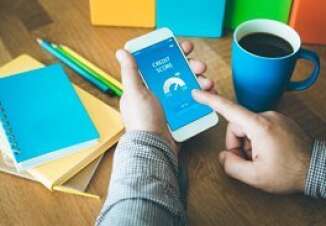 Are credit scores an important part of dating? Yes, they are, according to a new study, showing that for 58% of people a good credit score trumped having a good car, and for 50% good credit was more alluring than an exciting job title. But what about being physically fit? For many that's still important, but 40% said that having a hot body is not as important as having a good credit score.
Discover teamed up with Match Media Group for this study, to find out what the relationship was between love and money when it came to online dating, finding that for some people having a good credit score increases a potential mate's hotness factor. "If you have a good credit score, flaunt it," says Dr. Helen Fisher, Ph.D., chief scientific advisor for Match.com.
"When it comes to dating, a good credit score ups your mate value, helping you win a responsible, long-term partner, more so than some other qualities that online daters might highlight on their profile. Money talks, but your credit score can speak more about who you are as a person, and singles agree that those with good credit tend to be conscientious and reliable."
Being financially responsible is hot
There are lots of factors that go into finding a romantic partner, and for 69% being financially responsible factors into whether or not someone is date worthy. In fact, it came in ahead of a variety of other factors, including:
A sense of humor (67%)
Attractiveness (51%)
Ambition (50%)
Courage (42%)
Modesty (39%)
Yet having the talk about finances can take a while, only 7% or less of individuals who are using dating sites to find love said they would update someone on their financial profile before meeting up for the first date. The rest said that they would tell their partner about their financial picture within the first six months.
If you're wondering if there is a gender divide when it comes to the attractiveness of financial responsibility, the answer is no, with 77% of women and 62% of men saying it's an important quality in a potential mate.
Credit scores tell the story
Why are people with good credit scores so attractive? They are perceived as having some other great qualities based on that information and are seen as being responsible (73%), trustworthy (40%), and smart (38%).
"Regardless of your credit score, one of the keys to improving your credit health is simply being aware of your score. That knowledge can set you on the path toward improving or maintaining your score. Plus, it can spark an interesting-and important-conversation on a date," says Kate Manfred, Discover's vice president of brand and consumer insights.
This survey was conducted by C+R Research for by Discover and Match Media Group from January 30 until February 8, 2017. The online survey queried 2,000 U.S. consumers, from the ages of 18 and up, who had an online dating profile or had met a partner using one.