The content is accurate at the time of publication and is subject to change.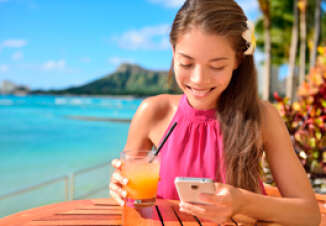 First Bankcard, a division of First National Bank of Omaha, has updated their app so that it now lets people not only access their rewards through the app but redeem them too. Rewards can be redeemed for cash back, gift cards and merchandise, no matter where they are, whether that's home or on vacation in some exotic location.
This new feature is seen as being a milestone by First Bank "Instantly redeeming rewards while you're shopping, dining out or enjoying a ball game is just one of many ways our mobile app serves our customers' needs," said Mihaela Kobjerowski, vice president, Customer Management and Digital Solutions. "It's all a part of our commitment to provide our customers the best digital experience while they're on the go."
The new feature is available to anyone with a First bankcard, which includes their 300 First Bankcard banking partners and select co-brand partners.
Getting Started with mobile rewards
The app can be downloaded via iTunes or Google Play, and is available for iPhone and Android smartphone users. To use the app one needs an online First Bankcard account. They then simply log into the app, and they can then start tracking and redeeming their rewards.
Within the app they can shop for e-gift cards, merchandise (electronics, housewares, jewelry, sporting goods, etc.) and traditional gift cards, from more than 70 different brands. People who opt to buy e-gift cards can access them or gift them right way because they are emailed to them right after redemption.
More features
The app also has a wide range of other banking features that people can access including:
• Deposit checks
• Make Person to Person Transfers
• Pay FirstBank credit card, cash reserve, or loan from the app
• Check balances on your accounts and loans.
• View eBills
• Update what bills are paid through the account
• Pay bills
• Transfer money between FirstBank accounts
• Schedule loan payments
To learn more about what the app has to offer First Bank has created a video and posted it on YouTube.