The content is accurate at the time of publication and is subject to change.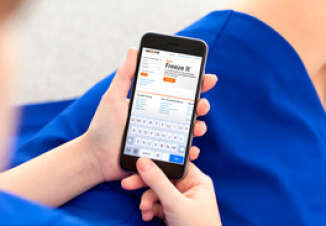 Have you ever lost or misplaced your credit card and wished you could freeze your account without having to make a call to your credit card company? Discover has now turned that wish into a reality with a Freeze It, a new feature on their consumer cards.
With Freeze It cardholders can actually turn their Discover card on and off from their mobile phone, effectively turning their phone into a control center. The feature prevents new purchases, cash advances and balance transfers from being made with the card until the cardholder turns it back on again, whether that's because they've found their card or have asked for a new one.
Discover believes this app gives people an additional layer of security as well as more control over their card. "We're giving our cardmembers a fast and simple security feature that gives them more control over their accounts and more peace of mind if a card goes missing," said Julie Loeger, senior vice president of marketing. "The Freeze It feature adds another layer of protection to Discover's continued efforts to increase cardmember security and help prevent fraud."
Freeze It – How it works
Freeze It can be turned on with your smartphone, via online portal or by calling the toll free number 800-DISCOVER.
Once it's on, people can flip the switch when they want or need to. While purchases, cash advances and balance transfers are turned off when they employ Freeze It certain kinds of activities still occur, including any recurring bill payments or transactions for merchants they have already approved.
Returns, reward redemptions, and other similar activities will still be active as well. People will still receive alerts when a transaction has been declined while the account is frozen.
If people believe their card is permanently lost or it's been stolen they can then call Discover to get a new account number and new card. Freeze It is not available for Discover business cards.
The Discover Card also comes with other benefits and features including new chip technology,  email and text alerts for purchases made over an approved threshold, a $0 Fraud Liability Guarantee, and 24/7 monitoring of purchases.