The content is accurate at the time of publication and is subject to change.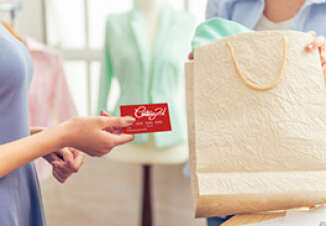 New York City-based bargain department store Century 21 is partnering with Alliance Data to launch a new credit card program.
A favorite of fashionable bargain-hunters, Century 21 operates 10 stores across the greater New York City area and Pennsylvania. The family-owned chain sells clothing for women and children, as well as footwear, outerwear and lingerie. It has been voted "Retailer of the Year" by the Manhattan Chamber of Commerce and is known for selling high-end brands at discount prices. Zagat has ranked it the number one discount clothing store in New York City.
The new card will be the first private label credit card offered by Century 21, and will offer customized rewards and benefits to loyal shoppers. The existing customer loyalty program, C21STATUS rewards, will remain in place and cardholders will have the opportunity to earn rewards and benefits faster when they use their Century 21 card to pay for purchases.
To make it easy for folks to get the new Century 21 card, Alliance Data plans to offer in-store kiosks to help customers apply, as well as utilizing tablet technology and online offerings to streamline the sign-up process.
New credit card to offer enhanced shopping experience
"We believe the new credit card partnership with Alliance Data will further strengthen our relationship with our customers by enhancing experiences during their shopping journey," said Century 21's chief financial officer, Mel Tucker. "We are confident the program will enhance our already popular C21STATUS rewards program, giving customers more reasons to shop with us, more often."
Store credit cards often give new cardholders discounts on their first purchase using the card, as well as the chance to save more on top of already discounted prices during regular sales. Annual percentage rates for store credit cards tend to be higher than for other types of credit cards, and they cannot be used at establishments other than the issuing retailer. They are a popular option, however, for frequent shoppers of a particular chain or store, who are able to take advantage of special promotions and deeper discounts than non-cardholders.
New Century 21 stores coming this fall
Century 21 is set to open two new locations this fall: one in City Point in Brooklyn, New York, and one in Sawgrass Mills shopping mall in Sunrise, Florida.