The content is accurate at the time of publication and is subject to change.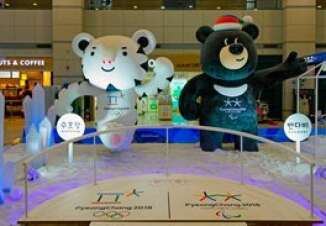 The Olympic and Paralympic Winter Games are coming, and fans will be settling in to watch their favorite sports and stars in 2018. Visa is making it possible for fans to actually pick up some official Team USA gear via Visa Checkout from their living room or anywhere else they may be watching.
Visa is the official payment technology partner of the Olympic and Paralympic Games, and they are teaming up with NBC, who will let viewers know that they can buy the official gear via a new platform built for the Team USA Shop, powered by Fanatics, the official e-commerce partner of Team USA.
"We are committed to making the at-home viewing experience as engaging for fans as possible," said Dan Lovinger, EVP, ad sales and sales marketing, NBC Sports Group. "Incorporating a retail component into our broadcast is just another way fans can bring the games into their home and support their favorite athletes," he said.
Team Visa athletes, which includes Americans Chloe Kim, Mikaela Shiffrin, Hilary Knight and Gus Kenworthy, will be highlighted on the shopping platform when they are making appearances or competing in the Olympic games.
T-shirts, mittens and more
At the shop, people will be able to pick up sweatshirts, beanies, mittens, t-shirts, hats and more, as well as other gear. The proceeds will go toward supporting athletes on Team USA. This will be the same gear that the athletes taking place in the games will be wearing whether competing on the mountain or getting a medal.
This initiative is seen as a way to give fans a more inclusive experience. "Visa is constantly looking for new and innovative ways to bring seamless commerce experiences to fans," said Chris Curtin, chief brand and innovation marketing officer at Visa.
"While the wearables will transform the payment experiences for fans attending the Games, this integrated shopping experience is Visa's way of imbedding the future of retail into the viewing experience for those fans cheering on Team USA at home," he said.
Wearable tech at the Olympics too
This new platform is part of Visa's ongoing effort to streamline shopping while at or watching the Olympic Winter Games, and includes developing wearable technology that can be used to make payments.
They have rolled out a variety of wearable payment devices, including gloves, commemorative stickers, and Olympic Winter Games pins, all of which are available for purchase in South Korea. These wearables allow fans and athletes will be able to make payments with a tap.