The content is accurate at the time of publication and is subject to change.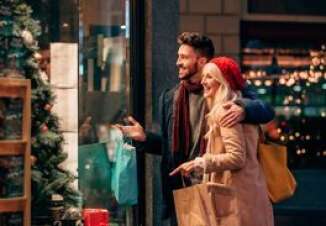 Shopping is definitely in style this holiday season with consumers, according to the new TD Bank Holiday Retail Report, on average they will be spending $530 on gifts. What are the trending gift-giving categories this season? Gift cards are leading the way with 28% of shoppers, with technology (25%) coming in a close second and clothes (19%) coming in third.
When it comes to how they will be paying 34% will be using their credit card and scooping up rewards, but 36% will be going with their debit card even if it means they forgo rewards and discounts. While 17% will be going old school and using checks, 7% will be using a store-branded credit card, and 4% will be saying yes to in-store financing options.
Credit cards are in style for many consumers
Of those people who are looking to finance their holiday gifts, 71% will be using their credit card, and some of that activity may well be inspired by a desire to earn rewards while they shop. "Rewards programs help increase customer engagement – who doesn't like receiving bonus incentives or perks for being a loyal customer," says Matt Boss, Head of Credit Cards and Unsecured Lending at TD Bank.
"Further to that, our data shows that holiday shoppers have financed responsibly in the past, which has led retailers to offer increasingly innovative financing options that provide consumers with an enticing combination of savings and rewards on their holiday purchases. It's a win-win from the customer point of view. Rewards programs enhance a customer's overall experience and increase their likelihood to shop at a retailer again and again, long after the holiday shopping season has ended," he added.
On the other hand, 57% will also use their store-branded card, and 39% will sign on the dotted line to take advantage of financing options being offered by a store. They also found that 61% of consumers were more likely to say yes to a financing option if they are offered lucrative discounts and savings.
Paying it off
How long does it take consumers to pay off their holiday bills? According to the study, 96% of consumers in the United States paid their holiday bill off within the year. With 33% making sure they paid it down immediately, and 24% doing it within a month of holiday shopping.
TD Bank Holiday Retail Report was carried out between October 29, 2018, and November 1, 2018, by MARU/Matchbox, a global research company. They interviewed 1,000 people for the study.