The content is accurate at the time of publication and is subject to change.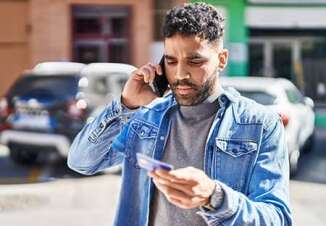 Many major issuers offer various means of contacting them, but the most common way to contact your card issuer still remains the same - calling customer service. People do not usually find it a pleasant experience, but it is considered the fastest way to get the results you need.
The most common ways to contact your credit card issuer are a phone call, online account access, and credit card or issuer's app.
Almost all major banks and credit card issuers provide a mobile app for members to manage their credit card accounts and access card information. Mobile apps usually have the same features as an online account: accounts summary, accounts activity, current balances, rewards balances and redemption, notifications and alerts, card lock, credit score, mobile deposit, and support. The set of features varies from app to app, but in general, members can view their account information and pay bills via their bank's mobile app.
If your credit card issuer doesn't have a mobile app, they may at least offer online account access. Online accounts may have more features available than mobile apps. For example, you may open new accounts online without visiting the bank's office. Some issuers even have online chats, if the online account features are not enough to solve your issue.
When an app and online access are not an option, calling the number on the back of your card may be the simplest solution. You can also visit your card issuer's website to look for their customer service options. Card issuers may have one or several customer service numbers for various issues. Before you contact your card issuer, make sure you have prepared. You will need your personal information, account details, your recent statement and other information depending on your issue.
Here are some common reasons you may want to contact your credit card issuer:
Your credit card is missing: you need to let your card issuer know your card is missing to minimize your responsibility for any unauthorized purchases.
Your credit card is being declined: to find out why your credit card is being declined and to get the issue cleared up.
You want to request a lower interest rate: if you've improved your credit score considerably, you may want to lower a rate on your credit card.
You have charges on your statement you don't recognize: those may be fraudulent activity, and you may need a new card.
Your payment wasn't applied to your account: this is especially important if you have a late payment.
You are traveling: you need to let your issuer know where you are planning to go and the dates you'll be there to avoid your card being declined.
You want to close your account: let the issuer know you are closing your account, and make all final payments on your account to be sure the balance is paid off.