The content is accurate at the time of publication and is subject to change.
This content is not provided by Citi. Any opinions, analyses, reviews or recommendations expressed here are those of the author's alone, and have not been reviewed, approved or otherwise endorsed by the Citi.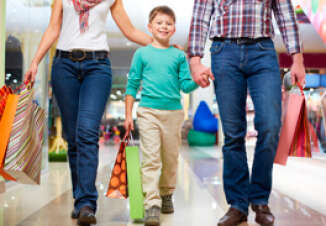 Gone are the days when parents made decisions when it came to back-to-school shopping, according to a new national study by Citi Retail Services, finding that kids are making the decisions more than ever before. (Citi is a Credit-Land.com advertising partner). With just about half (47%) of parents leaving the decision making totally up to their kids when it comes to what they will be wearing and using when they head back to school in the fall.
But those parents are not alone: 70% say that they have upped the number of decisions their kids make while gearing up for the return of school. "Somewhat surprisingly, parents believe their Generation Z children are more likely to want to shop in-store for school, suggesting that the ability to physically browse and purchase goods in person is still a strong attraction for younger shoppers, who are in many cases dictating purchase decisions," said Leslie McNamara, Managing Director, Business and Market Development at Citi Retail Services.
Generation Z heads out to the stores
Where is Gen Z shopping? While they are known for their online acumen according to 84% of parents they actually prefer to head out to stores or the mall to do their shopping, while 16% will be going cyber shopping.
Why are they less invested in online shopping and so gung-ho when it comes to heading out to stores? For 59% of parents the answer is fairly simple - their kids actually want to try on their new clothes and test out electronics and other back to school gear. While 58% of parents report that their child likes to tailor their purchases to their style.
In store shopping trending with parents too
Kids are not alone when it comes to giving real time shopping a thumbs up, with three quarters (76%) of parents preferring to hit the stores too. Why? Part of the reason is to spend some quality time with their kids. Yet, this trend does not apply to other kinds of shopping. When it comes to holiday shopping 49% of parents are all about shopping online. What about Black Friday? Here too online shopping is very popular for 41% of parents.
The Citi Back-to-School survey was carried out from July 8th to July 14th, 2016, by Wakefield Research. They interviewed 1,000 people with children in grades 1 through 12, using an online survey.