The content is accurate at the time of publication and is subject to change.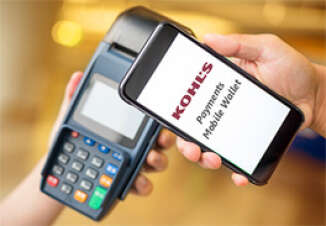 Do you shop at Kohl's and like to pay at the register with your phone? If so you can now opt in to use Kohl's Pay, a mobile wallet which can be used excursively with the Kohl's Charge private label credit card.
With Kohl Pay people can use their phones to pay for any purchases they make in all Kohl's stores whether they are buying clothing, holiday presents or something else. Cardholders can also use the mobile wallet to easily use their Kohl's cash and Yes2You Rewards, as well as take advantage of any special offers that are available when they are cashing out at the register. Transactions will also be available for review in the app, and they will be able to return and exchange merchandise using the app.
The release of Kohl's Pay is seen as a way to give customers a higher level of convenience as the holidays approach. "Kohl's Pay truly redefines convenience for our loyal Kohl's Charge customers by simplifying the checkout and payment experience - making it easier than ever to shop in store this holiday season," said Ratnakar Lavu, Kohl's chief technology officer. "We're combining value and convenience by bringing together the incredible savings opportunities that our customers love like Kohl's Cash and our Yes2You Rewards loyalty program with the ability to pay with a Kohl's Charge, all from your mobile device."
Getting Started
With the rollout of this new mobile wallet you can find Kohl's Pay in the mobile app. To get started if people don't already have the Kohl's App they can download it via the App Store or Google Play. Once installed cardholders can save their Kohl's Charge information directly in the App.
When it's time to checkout people simply open up the Kohl's App, and then pick Kohl's Pay in the apps menu. When they do this the system will load the mobile wallets QR code reader. When their purchase is rung up a QR code will be displayed on the terminal. The code is then scanned by the customer using the QR Reader. They can then use whatever special offers are available as well as rewards and Kohl's Cash. With a tap they can then finish up the transaction and head out.