The content is accurate at the time of publication and is subject to change.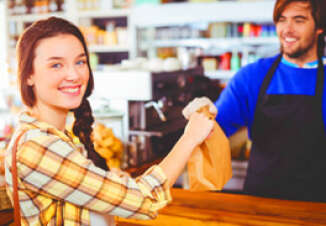 If you ever thought you wanted to order your breakfast, lunch or dinner ahead of time and pay with your Chase Pay app you are now in luck. Chase has launched LevelUp, Chase Pay, a feature that lets people place their order at thousands of fast food and quick service spots and pay directly from the app. They will be able to use loyalty programs within the app and access special deals, as well as order their favorites with just a tap.
LevelUp is a Boston-based tech company, and the new feature is being introduced at quick-service restaurants in Boston. It will be rolled out nationwide during the coming months. People can find out what restaurants are currently participating in the initiative directly in the Chase Pay app.
"LevelUp is thrilled to be working with Chase to help their customers order ahead and pay at thousands of popular restaurants," said Seth Priebatsch, CEO and founder of LevelUp. "With Chase Pay, customers will be able to skip the line at their favorite spots and unlock savings at the same time. By seamlessly blending the value propositions of saving time and saving money, Chase Pay is making mobile payments relevant to customers."
People can get the Chase Pay app via the App Store or Google Play, depending on the device they are using. For more information on the Chase App and LevelUp, Chase Pay people can visit the website.
The benefits of Leveling Up
With LevelUp, people can order their food directly from their phone and pay at the same time. There are other perks that come along with it as well, including special offers that they can use when checking out, as well as ordering their usual faves with just a tap, and looking for restaurants nearby where they can use the app to order and pay.
There are also benefits for merchants as well including increased ticket size and upping how often people visit their restaurant. They also suggest it will increase not only customers experience but up their level of brand loyalty.
Also loyalty and reward programs can use with in the app, so there are fewer coupons, punch cards and other rewards cards to wrangle with at checkout.