The content is accurate at the time of publication and is subject to change.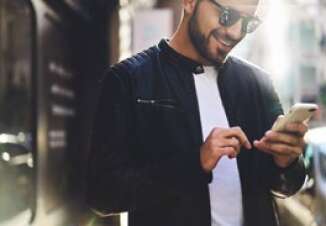 Discover cardholders who have the iPhone X can now use the phone's facial recognition technology to log into the mobile app with just a look. Discovers bank customers will also be able to use this technology to streamline mobile banking.
This upgrade in the app's abilities is seen as a way to give consumers a more user-friendly experience. "The ease and security Face ID offers to our app users is an extension of our overall commitment to providing the best possible customer experience, whether that's through our mobile app, by phone or on the web," said Szabolcs Paldy, vice president of e-business for Discover.
"Face ID provides Discover customers with an added security convenience at sign-in that requires no more than a quick glance at their iPhone X," he said.
The TrueDepth camera system is used in the design of the iPhone X, and it makes it possible for people to log into the Discover mobile app with just a look. The system also offers a streamlined and secure way to verify the identity of users.
More from Discover
Along with using the Face ID technology in the Discover mobile app, they have rolled out a variety of other upgrades to their mobile app. These upgrades include letting cardholders carry out wire transfers via the app.
Discover also recently announced the rollout of Cashback Bonus via Apple Pay, which lets people actually use their cashback bonus rewards to get a statement credit via Apple Pay.
Other features that are part of the Discover mobile app include:
Mobile Deposit - lets bank customers deposit checks via their mobile device
In-App Messaging - connects cardholders with customer service agents in real time
Freeze it® - consumers can turn their card off via the app if it goes missing or is stolen - and then when they are ready they can turn it back on
Quick View - a way for consumers to check their balance and account activity without having to log in
Apple Touch ID - let's people sign in to their account when using iOS devices