The content is accurate at the time of publication and is subject to change.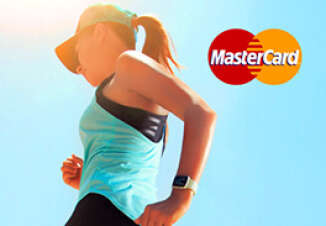 Wearable technology in fitness monitors are trending with consumers and in keeping with this theme MasterCard has teamed up with Fit Pay, Inc. so the payment processor's contact-less system can be integrated into a wide range of wearables and Internet of Things (IoT) devices.
For MasterCard customers this partnership means that there is a wide range of new wearables on the horizon designed with them in mind. Fit Pay believes that with the help of their partners in 2017, 2.5 million wearable devices will be enabled with contact-less payment technology, and by 2018 that number will rise to 9 million.
Integration and innovation
With this agreement, which makes it possible to integrate the Fit Pay platform with the MasterCard Digital Enablement Service (MDES), both companies can start working with innovative manufacturers to create wearable products that can be used at the register to make payments using MasterCard.
Wearatec is one of the manufacturers that will be energized by this agreement. Wearatec designs and manufactures technology-connected watch clasps, which make it possible for luxury watches to have smart device capabilities.
The relationship between MasterCard and Fit Pay paves the way for Wearatec to work with other companies, like leather goods designer Jean Rousseau, to get a variety of men's and women's watches outfitted with payment technology.
Wearable tech faster, cheaper
The platform designed by Fit Pay offers manufacturers a way to bring wearable payment products to market with a shorter turnaround time, as well as lower costs and less complexity when it comes to authenticating payments.
Fit Pay is not the only technology integrator to come into the MasterCard Commerce For Every Device program. MasterCard has teamed up with a wide range of companies to enable payment transactions that are both easy and safe, while enabling devices that make peoples lifestyles easier and keep them on point security wise.
"At MasterCard, we are continuously working to enable payments to a whole new generation of devices to give consumers more choice in how they pay," says Kiki Del Valle, Senior Vice President, Digital Payments and Labs at MasterCard. "The Commerce for Every Device program puts in place a standard for expanding secure contact-less and embedded payment options globally, and our work with Fit Pay and its set of cutting-edge device manufacturers will further help us meet merchant and consumer needs."