The content is accurate at the time of publication and is subject to change.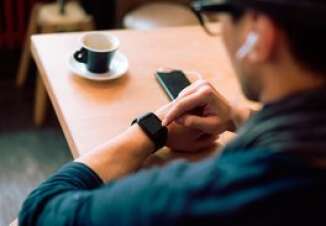 The Garmin vívoactive 3 is a smartwatch that lets people track their workout, and it comes with contactless payment capabilities enabled by both MasterCard and Visa, letting people buy a juice before their workout, buy some fitness gear, or make some other kind of payment.
The Garmin Pay technology integrated into this device lets people simply tap and go when checking out at the register at just about 6.6 million merchants and retailers located around the world. "Garmin customers are dedicated to living an active lifestyle," said Dan Bartel, Garmin vice president of global sales.
"The last thing they want to think about after participating in a marathon or working out is pulling out money from their sweaty workout gear to pay for a post-workout refreshment – or even worse, forgetting their money," he said.
Gearing up
To get started people simply use the Garmin Connect Mobile app to key in their payment information or they can scan their card into the system. The app is available for both Android smartphones and iPhones. Once the card information is authenticated, and the app and the watch are synced, people can start using their watch to make purchases using Garmin Pay.
"Technology is enabling fitness companies to provide athletes with the most comprehensive performance trackers we have seen in our time," said Kiki Del Valle, senior vice president, Commerce for Every Device, MasterCard.
"Adding payment capability to these devices is a natural next step to make training and fitness experiences more relevant, personal, and convenient," said Del Valle.
Whether paying with MasterCard or Visa the system creates a unique token to authorize each payment so that the user's data is not transmitted, thereby providing another layer of security.
Visa and MasterCard are working with Fit Pay, Inc. so that their payment systems could be used in a variety of wearables and Internet of Things (IoT) devices.
"The idea of wearing your wallet on your wrist is not only desired by consumers but with Visa and Garmin it will be both convenient and secure," said Jim McCarthy, executive vice president of innovation and strategic partnerships, Visa.
"Working with Visa through Fit Pay, Inc. has enabled us to provide a quick payment solution for our customers and now they can pay whenever, wherever," he said.
Fitness and technology go hand in hand
Bringing along your wallet when working out or going for a run can be rather awkward, according to the new "Visa Sweaty Money Survey," finding that 57% of those who do bring their wallets or payment cards to the gym tend to store them in some sweaty places, including their socks or underwear.
Have you ever wanted to make a payment while working out or right after and didn't because you left your card at home or in your locker? You're not alone, according to the study, with 49% of people saying that this has been an issue for them. And in keeping with this theme 57% said they didn't bring their cards along because they were afraid they would lose them or they had nowhere to store them.
Given that information, it's not surprising that 60% said they were interested in actually using a wearable device to buy something while working out.