The content is accurate at the time of publication and is subject to change.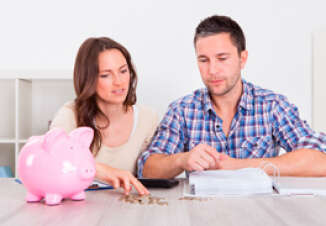 This year is all about saving for one out of three Millennials, according to a new study. They are looking to save for everything from an emergency fun to starting a family and retirement. Saving beat out old standards like living a healthier life style (20%) and losing weight (14%), although paying down their debt was on par with being healthier. What is the biggest hindrance to saving? For 65% the answer was impulse buying.
This study commissioned by the American Institute of Certified Public Accountants (AICPA) and the Ad Council looked at what Millennials were focusing on this year, finding that the sweet spot was savings, although many found it to be a struggle.
"Many young adults think saving is impossible," - said Gregory Anton, CPA, CGMA, chair of the AICPA's National CPA Financial Literacy Commission. "While low salaries and high debt levels can certainly be barriers to saving, the key is to create a budget and stick to it. Establishing a disciplined saving strategy early in life and avoiding missteps will reap substantial long-term dividends."
Saving is hard to do
For Millennials that are a little older, born from the early 1980s to the early 1990s, saving is a must because they are working toward major goals. What goals? Some reported saving for an emergency fund (40%), saving for retirement (22%) and starting a family (15%).
But for others its more about the here and now, with them saving for a vacation (36%), a new house (27%), a car (26%), home improvements (20%) or a wedding (8%).
While impulse buying gets in the way of saving, 84% of Millennials indicate that other issues get in the way too, including not making enough money. Other barriers include:
• Too many bills to pay (81%)
• Paying off debt (79%)
• Not making a budget (62%)
But no matter why they aren't saving, 44% said that they don't pay off their credit card balance each month, and/or that they borrowed money from friends or family. While 41% had less than $100 in their checking accounts and a third reported paying overdraft or late fees.
Feed the Pig helps
In order to help Millennials get a handle on saving the AICPA and the Ad Council started the Feed the Pig campaign – feed the piggy bank that is. Recently they have teamed up with Facebook Creative Shop to produce and release three videos, and photos designed to reach out to Millennials and help them make needed changes. They have also teamed up with other companies, apps and social media outlets including Games for Change, IFTTT, Upworthy and Truffle Pig.
"The good news is that Millennials are internalizing the message that saving is important, but they still need help creating habits that stick," - said Ad Council president and CEO Lisa Sherman.
Help make saving easier and more accessible for millennials.