The content is accurate at the time of publication and is subject to change.
This content is not provided by Citi. Any opinions, analyses, reviews or recommendations expressed here are those of the author's alone, and have not been reviewed, approved or otherwise endorsed by the Citi.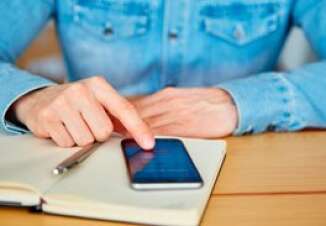 If you do your banking from school, work, the gym or even when chilling with your friends, you are not alone, according to Citi's inaugural Mobile Banking study (Citi is a Credit-Land.com advertising partner), finding that people are doing their banking from just about everywhere - and in many cases up to 10 times a month.
In the study, they found that on average consumers are doing their banking using a mobile device seven days a month and that number goes up for the younger set, with Millennials engaging in mobile banking 10 days a week.
Where are they doing it? Anywhere you can think of, with 88% doing it at home, whether they are in the bathroom, lying in bed or watching TV on the couch. On the other hand, 44% are doing some of their banking while at work, and 31% of Millennials are actually banking while they hang out with their friends.
"At Citi, we've long recognized that Americans' banking patterns are evolving and preferences for innovative solutions are heightening at a rapid pace," said Alice Milligan, Chief Customer and Digital Experience Officer, Citi Global Cards.
"Accessibility is no longer just a value-add to our customers, it's a must. We are constantly improving and advancing our solutions to meet our customers' mobile banking needs wherever, and whenever, they need them," she said.
With knowledge comes power
People who do their banking via their mobile device appear to be more confident about the state of their accounts, with 65% reporting that they are confident that they know what their balance is, while just 53% of people who don't use mobile banking said the same.
Also, they found that people who engage in mobile banking at least once a week were more conscious of their financial standing than those who don't do it as often.
Mobile banking apps
How are they doing their banking? In the study, 98% had downloaded their bank's mobile app. They also found that people using banking apps with more built-in features (at least five) were more apt to say they were going to stay with their current bank over the coming year, than those whose apps did not give them access to additional features.
Citi released their findings during the Economist's 2017 Finance Disrupted Conference, where 200, senior business leaders, policymakers, leading thinkers, and entrepreneurs came together to talk about where Fintech is going and what effect it will have on the financial services industry.
The Citi Mobile Banking Survey was carried out from April 12 to 24.