The content is accurate at the time of publication and is subject to change.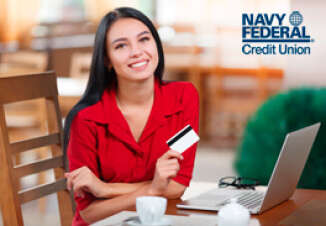 Navy Federal Credit Union and American Express have partnered up and will be introducing a new American Express credit card: the Navy Federal More Rewards American Express Card. It is designed for the bank's members and is expected to provide users with rewards for everyday purchases. It is expected to be launched in the fall of this year, just in time for the holidays.
Navy Federal Credit Union sees this new card as being a bonus for their members. "The More Rewards Card enhances our rewards card program overall," said Matt Freeman, head of credit card products at Navy Federal Credit Union. "And, at the same time, we're bringing real value to our members for the way they shop every day."
Getting Navy Federal More Rewards
Once the card is available, people who are interested in getting the Navy Federal More Rewards American Express Card will be able to apply via the bank's website. But they will also be able to call into their service center to apply for the card, and if they are at their local branch they will be able to talk to their banker to get the process started.
This card will be serviced by Navy Federal and cardholders will be able to use in across the American Express global merchant network.
Navy Federal Credit Union already has five Visa and MasterCard branded cards in their portfolio. These cards offer a wide range of rewards for consumers, with cardholders earning up to three points per dollar depending on what they are buying and the kind of card they have. All these cards, with the exception of one, do not have an annual fee attached to them. The Visa Signature credit card has a $49 annual fee.
For more information on the new card and the cards already in their portfolio people can check out their website.
The Navy Federal Credit Union has over $81 billion in assets, as well as 7 million members, and 298 branches. They service all the active duty, veterans, civilian and contractor personnel and their families of the Department of Defense and Coast Guard.