The content is accurate at the time of publication and is subject to change.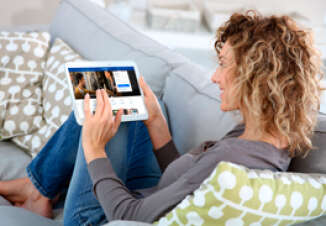 Customers of Chase will find a new, more streamlined design waiting for them next time they log on to Chase.com. The site has been revamped with an eye toward making it quicker and easier to use, with greater personalization so folks have an online experience that more closely resembles the Chase Mobile app, which has proved very popular since its redesign last year. The Chase Mobile app ranks as the number one bank app in both the Google Play and the Apple App stores.
Chase is touting five new features of the Chase.com site, which is available in both English and Spanish:
1. Images pulled from local areas so returning visitors to the site are welcomed with familiar sights.
2. A scroll on the home page that works like a newsfeed and gives users access to the content they're looking for.
3. Navigation featuring a menu that stays in one place when customers scroll down the home page, so users always have easy access to the pages they want to visit.
4. Clearly laid out choices for checking accounts, credit cards, and mortgages so customers can easily find the option that works best for themright from the home page.
5. Advice and insights in the "News and Stories" section moved to a more prominent location on the home page.
From the home page, visitors can choose one of five options: buy a new car, save money, get a credit card, buy a home, or bank with Chase. The bank offers consumer and business checking accounts, savings accounts, mortgage services, personal loans, and several premier rewards credit cards for businesses, travelers, and everyday consumers. The Chase Freedom card offers cash back in rotating categories that change quarterly, and the line of Chase Ink cards for businesses offer reward points and other perks tailored to business owners.
Home page redesign is only the beginning
Chase upped its digital game beginning last year, with the redesign of the Chase Mobile app, followed by this reinvention of the Chase.com site. The home page is only the first piece of the Chase.com redesign; the company will introduce new customer account pages and reimagine other sections of the site later this year.
Gavin Michael, head of digital at Chase, said the bank is eager to bring the Chase.com site in line with the Chase Mobile app, aligning the desktop computer and tablet user experience with the mobile experience. "We just made it easier for our customers to live and bank the way they want," said Michael.
More than 37 million people are active users of chase.com, making it the most-visited banking website in the world, according to Compete.com.