The content is accurate at the time of publication and is subject to change.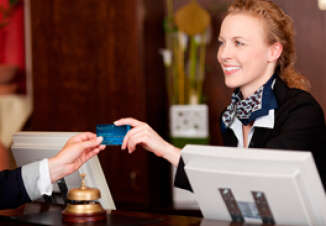 The Asian American Hotel Owners Association (AAHOA) has joined forces with First Bankcard to bring their members two new credit cards offering rewards and cash back on business and commercial spending – the Business Edition MasterCard with Absolute Rewards and the Commercial Edition MasterCard.
This is a first for AAHOA, the biggest hotel owners association in the world, with 14,000 members owning over 20,000 properties and making up more than 40 percent of all hotels in the United States. The launch of these cards is seen as being a way to provide members with targeted rewards and services.
"We have worked closely with First Bankcard to prepare an excellent package of benefits and services to our small business owner-members," said AAHOA Board Chairman Pratik Patel.
Two cards, one focus – growing their business
When signing up for these new cards AAHOA members can choose to maximize earning power for business related expenses or to optimize their cash flow based on what their business needs at the time.
The Business Edition MasterCard comes with Absolute Rewards, allowing cardholders to get help with financing larger purchases of equipment, as well as renovations on their properties by earning rewards. For every dollar spent on these types of purchases they earn 1.5 points, which can be used to get cash back on their statement, pay for travel, or buy merchandise or gift cards.
The Commercial Edition MasterCard offers cardholders a way to optimize cash flow. With this card they get larger credit lines and enhanced profits from revenue sharing. All eligible purchases earn cash back to their bottom lines.
It's all about the benefits
For businesses its importation to have the ability to manage and control business spending in real time, with both these cards members can do just that if they have a cash flow management system already in place. Each card includes 24-hour online account access, as well as reporting, account alerts and notifications.
They have also integrated additional benefits and services into the package. Members get access to travel and emergency services, travel accident and lost luggage insurance, product warranty benefits and automatic savings when doing business with merchants participating in the program.
The Asian American Hotel Owners Association (AAHOA) was founded in1989, and is headquartered in Atlanta Georgia. Their members employ 578,600 full and part-time workers with a $9.4 billion payroll. They provide members with programs and initiatives in key areas including professional development, membership benefits, advocacy, community involvement, and industry leadership.
First Bankcard is a division of First National Bank of Omaha and has a portfolio of co-branded cards and affinity programs.