The content is accurate at the time of publication and is subject to change.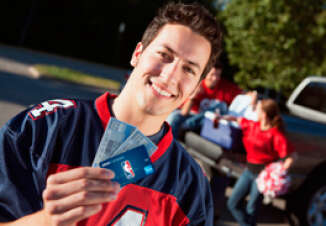 NBA fans that can't get enough of watching their favorite players shooting hoops can now get the new BBVA Compass NBA American Express card. With this card they get access to special events, while also earning triple points on NBA-related purchases, and five times the points when using their card when the NBA All-Star and the NBA Finals are happening.
Cardholders also earn double points when getting gas or shopping for groceries. This is the first time a credit card has become part of the global NBA brand.
The NBA TripleDouble Rewards Program is part of the card package. With it people can not only cash in points for statement credits, they can use them for NBA merchandise and exclusive NBA experiences, including behind-the-scenes experiences, tickets to special games and meet-and-greets with top players.
NBA players on deck
The NBA American Express card is being launched in conjunction with a full court press player-driven social media campaign featuring some of fans' favorite NBA players including Kevin Durant and James Harden, BBVA national ambassadors, along with regional brand ambassadors Kawhi Leonard and Chandler Parsons.
All-Stars Durant and Harden were on hand to announce the partnership between BBVA and American Express in February just in time for the NBA All-Star 2015. Cardholders can personalize their card with logos of their favorite team.
And the players are excited. "Anyone who knows me knows I'm all about pride — for my team, for my college, for my family and my hometown," said Durant, the Oklahoma City Thunder forward and reigning NBA MVP. "With the new BBVA Compass NBA American Express Card, I can show my Thunder pride every time I use it."
People can apply for the card on any digital platform, whether that's their iPhone or tablet, or computer.
The social media blow out
The social media and advertising campaign for the card is designed to get fans excited by launching social media and digital content, giving them a closer look at the game and their favorite teams. There is also a nostalgia theme focusing on past games and special experiences at those games, which could be a breathtaking shot or an exciting championship game.
Certain BBVA Compass banks will be decorated with NBA related materials, which includes  life-size images of their  brand ambassadors. Before launching the campaign they talked with fans to see what they wanted from a card and a campaign.