The content is accurate at the time of publication and is subject to change.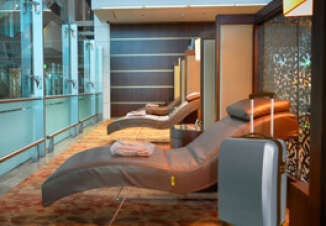 If you have been wishing for more benefits from your American Express Platinum Card, Amex may have heard you. They have announced some upgrades including expanded 5x Membership Rewards categories, Uber perks and access to more airport lounges.
When the new benefits kick in on March 30, people who have the Platinum card will also get earn 5x the Membership Rewards points when booking rooms at eligible hotels via amextravel.com. This complements the 5x points cardholders now get when booking airline tickets directly from airlines or via Amex Travel.
Cardholders will also be able to access new Uber Rides with Platinum benefits via the Uber app. With this perk they will get up to $200 in Uber credits every year, which can be used for rides within the U.S. while also getting automatic VIP status.
Expanded airport lounges and extras
What about getting some R & R in the lounge when traveling? Here too there's an upgrade, with cardholders getting access to the expanded Global Lounge Collection, letting people chill out at over a thousand airport lounges.
This includes both American Express lounges and lounges offered by their partner airlines. These lounges can be found in 500 cities located in 120 countries. This new upgrade also includes the Centurion Lounge locations slated to open later this year in Philadelphia and Hong Kong.
Fine dining upgrades and more
Along with more airport lounges, the Platinum upgrades include a new Global Dining Collection. Amex has partnered with top chefs like Thomas Keller, Daniel Humm, Stephanie Izard and José Andrés, to give cardholders a way to have one-of-a-kind culinary experiences.
These will include dining at the EMP Summer House in the Hamptons, and a pop-up restaurant from the Eleven Madison Park team. They will also be able to snag exclusive reserved seating and take part in other culinary events.
Platinum cardholders who want to add more Gold cards to their Platinum card account, will also be able to do so for free. Plus, there will be no annual fee for already existing additional Gold cards.
For more information on the upgrade, check out the webpage.