The content is accurate at the time of publication and is subject to change.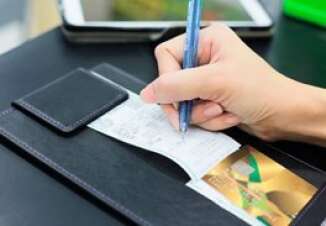 Are you tired of signing for your purchase at the register? If that's the case, you won't have to sign on the dotted line any longer when you pay with your MasterCard in the United States and Canada. This new initiative will go into effect starting April 13 and is for both credit and debit cards.
The reason for this upgrade is simple—speeding up the checkout process for cardholders. "In our digital, fast-paced marketplace, consumers appreciate any opportunity to save time. This is why MasterCard led the charge to officially 'retire' cardholder signatures from store receipts," said Linda Kirkpatrick, executive vice president, U.S. Market Development at MasterCard.
"Merchants recognize that cardholder signatures have limited use and are embracing this change to create efficiency for their customers," she said.
While the technology will go live and be available to retailers, it is up to retailers when they will integrate it into their systems.
Signatures are out of date
According to MasterCard's new "Signature Retirement" survey, this upgrade is a welcome change for Americans. About 72 percent of respondents said that they get irritated when people take too long to check out.
While 17 percent indicated that they couldn't tell you when they last used their signature for anything except signing a credit or debit card receipt. In this instance, the younger generation's memory is vaguer, with 20 percent of millennials saying that they can't recall, compared to 14 percent of consumers who are 55 and older.
They also suggest that signing for things is passé, on par with checks, with 55 percent of respondents indicating that they typically only sign their name a couple of times or less during the month.
The growth
This new upgrade to how people pay with their MasterCard builds upon security and authorization upgrades that have been rolled out in the past, including everything from chip migration and tokenization to biometrics and early detection systems. These enhancements are all designed to protect customers from fraud.
They are also poised for contactless and tap-and-go payments to go live, with a large percentage of the new payment terminals reportedly outfitted with the required hardware.
MasterCard's "Signature Retirement" survey was carried out between March 29th and March 30th, 2018. They interviewed 1,108 adults in the United States who were aged 18 and up.