The content is accurate at the time of publication and is subject to change.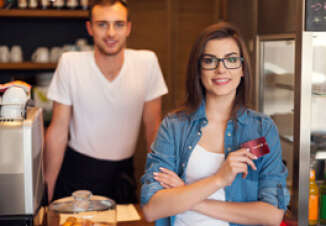 Optimism is in the air for small businesses this season, according to the new Wells Fargo/Gallup Small Business Index, with the upswing in optimism being directly linked to feeling better about their cash flow, an integral part of growing a business.
The Wells Fargo/Gallup Small Business Index, was conducted at the beginning of the year, with its overall score rising to 67%, up 13-points from November.
"The latest Index scores show that small business owners are more upbeat about their current and future business conditions," said Lisa Stevens, Wells Fargo's head of small business. "Similar to what we've seen in some consumer confidence surveys, improvements reported in the January survey indicate the optimism of small business owners rebounded after trending downward for much of 2015. This suggests small business owners are entering 2016 with greater confidence."
Its all about cash flow
Business optimism and cash flow are very much tied together in this study, with 60% of small businesses indicating that over the last year their cash flow was either very or somewhat good. Optimism about cash flow has not been this high since 2007.
But what about the future? Here too there is a upswing, with 66% expecting that their cash flow levels will be on par with last year for the coming twelve months, up 3%.
Cash flow was the bigger winner in this study with the other indicators showing small increases or no change at all.
Trends in EMV and Digital Wallets
The study also looked at how small business owners felt about the conversion from swipe-based cards to EMV chip-enabled debit and credit cards. They found that 48% of small business owners indicated that they had upgraded to the new technology, from 31% in the late summer.
This left a little more half of businesses having still needing to update their payment system, but 22% of these plan to do so during the next six months, and 14% will upgrade within the year. That said one in five won't be doing it at all.
What about digital wallets? It hasn't caught on just yet with all small business owners, but 5% are enabled to take payments from digital wallets like Apple Pay or Android Pay. That said 11% are gearing up to take digital payment over the coming year.