The content is accurate at the time of publication and is subject to change.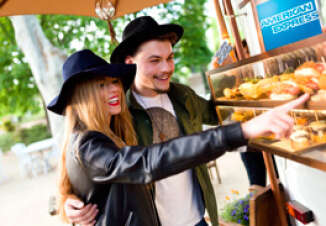 Amex has rolled out their Quick Chip technology, a new tech that lets consumers with the new chip enable Amex cards to check out faster and easier, whether they are buying dinner or filling up at the pump.
With this technology there is nothing for cardholders to do. It's up to merchants to upgrade their EMV-enabled payment terminals by uploading and deploying it via a new software update. Right now the Quick Chip is only available to merchants and retailers operating in the U.S.
Quick Chip is seen as being a way to take the sting out of using EMV-enabled credit cards and smooth out relationships between consumers and merchants. "Reducing friction for Card Members and merchants is a key priority for American Express," said Mike Matan, vice president, Global Network Business, American Express. "Amex Quick Chip provides merchants operating in industries where fast checkout speed is critical with an option for ensuring Card Members can quickly and efficiently pay for purchases with their EMV chip cards."
EMV heightens security, Quick Chip makes it faster
EMV technology was designed to lessen the risk of cyber thievery by actually housing users' information on a microprocessor chip that is placed inside the credit or debit card. When its time to check out, the credit or debit card is dipped or inserted into the EMV-enabled payment terminal. Cards are not swiped with this technology.
When merchants install Amex Quick Chip, when cardholders dip their card they do it during checkout rather than at the end when everything is tallied up, and remove the card before the transaction is finished. This lets the whole process take a shorter amount of time and make it seem as fast as when it did when they were swiping their credit card.
While this aspect of the process has changed, what has not is the security level the EMV technology provides. Even with this streamlined effect people are still protected against hackers and cyber thieves by the EMV technology.