The content is accurate at the time of publication and is subject to change.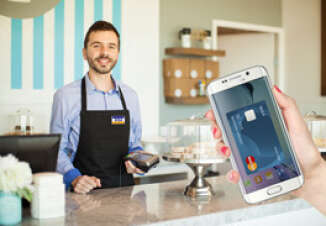 Samsung Pay has been growing its network of issuers since launching in August 2015, and recently expanded their reach further by adding new Visa and MasterCard partners to their lineup, including PNC Visa and KeyBank MasterCard credit and debit cards.
"Samsung Pay delivers the purchasing power of PNC credit and debit cards right to the place where customers want it most - on their mobile devices," said Thomas Trebilcock, who leads Mobile & Emerging Payments for PNC. "Offering payment services like Samsung Pay illustrates PNC's commitment to convenience and delivering enhanced mobile capabilities to customers."
More new partners
The lineup of new Samsung Pay partners includes: California Bank and Trust and Pentagon Federal Credit Union. Additional new MasterCard issuers supported include Achieva Credit Union, Associated Bank, Bayport Credit Union, Bethpage Federal Credit Union, Cambridge Savings Bank,TCF Bank, Central Florida Educators Federal Credit Union, Financial Center Federal Credit Union, Greater Kinston Federal Credit Union, Keypoint Credit Union, Numerica Credit Union, Utah Community Credit Union, USC Credit Union, Navy Federal Credit, and Union Amegy Bank National Association.
These new partnerships were announced on the heels of news that, like Apple Pay, Samsung Pay will be taking the leap into China by partnering with UnionPay in the coming year.
Samsung Pay working at checkout options
With Samsung Pay users can pay for purchases with their mobile device whether the terminal is outfitted with mobile EMV or NFC technology, or not. It works with old swiping payment technology, as well as the newer tap-and-go tech (EMV and NFC).
When using Samsung Pay, people open the app on their phone, click on the credit or debit card they want to use to make the payment. They then scan their fingerprint to let the system know that they are authorizing the payment and let the payment go through.
Samsung Pay uses three different aspects to ensure security--tokenization, Samsung KNOX, and fingerprint authentication. With tokenization a one-time token containing a code, which does not include the individual's actual financial data, is transmitted to the terminal allowing the payment to go through. This is a technology used by most mobile payment systems to heighten security.