The content is accurate at the time of publication and is subject to change.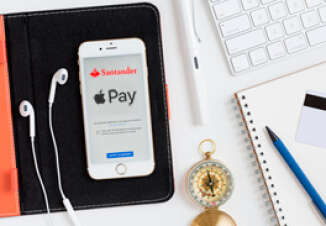 Paying with your smartphone can be a timesaver no matter what you're buying. Up until now though, people with Santander Bank credit and debit cards could not use Apple Pay. But that is all changing due to a recent upgrade they can now load their payment cards into Apple Pay.
The integration of Apple Pay into the Santander Bank mobile system is part of their ongoing efforts to give their customers the options they want and grow their mobile strategy. "Our customers have been telling us that they want to do more on-the-go digital banking using their mobile devices," said Michael Cleary, Santander's Head of Consumer and Business Banking.
"At Santander, we pride ourselves on listening to our customers. We've responded to their feedback by investing more resources in our mobile banking platform and upgrading the digital tools and services customers need to truly bank anywhere with Santander, and Apple Pay is a great example of that innovation," he said.
Getting Started
With this upgrade people can quickly set up Apple Pay by using their Apple Wallet and adding their Santander Bank credit and debit cards. Once all of that is taken care of they can get started using their mobile device to buy everything from pet supplies to travel gear.
When they are checking out at the store they simply hold their iPhone close to the NFC reader typically located by the register. They can then use the Touch ID technology included with their phone to let the purchase go through by using their fingerprint. If they are using an Apple Watch, they just double click the button on the side of the watch.
Growing digital footprint
Along with the rollout of Apple Pay to their customers, Santander Bank has been upgrading their mobile and digital platforms to streamline their customer's experience. In keeping with this theme, they have recently upgraded their app's navigation system to make using the app more user-friendly.
Along with enhanced navigation, they added some other features as well. Now people can deposit checks via their mobile device, and use their fingerprint to login using their iPhones already existing Touch ID technology.