The content is accurate at the time of publication and is subject to change.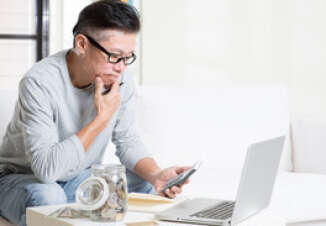 When it comes to New Year's resolutions, many people think of eating better, exercising more, and quitting bad habits. But almost 85% of respondents to a recent survey said their list of resolutions included at least one having to do with their finances.
The LendingTree 2016 New Year's Financial Resolutions Survey revealed that the most common financial resolution for the coming year was to put more money into savings. Nearly 45% of those surveyed said they were determined to save more this year. Paying off debt came in second, with almost 42% vowing to reduce the amount of money they owe, whether to credit cards, student loans, or other types of debts. The third most popular resolution was to be better about sticking to a budget. Thirty-six percent of folks said that was on their list of resolutions.
Regrets, they've had a few
One driving factor for making a financial resolution for the new year is lingering regrets over past behavior. Fewer than 13% of Americans felt like they were in a very solid financial place as 2015 came to a close. Eleven percent said they that 2015 was a "very hard year" and that they were in a bad spot, financially, at the end of it, while 18% labeled 2015 "a year of struggle." The remaining 58% of those surveyed said that their end-of-year finances weren't so bad, calling them "fair" or "good," but still said that there was room for improvement.
The reasons people struggled were various, but the top three regrets included failing to set aside enough money in savings (40%), not sticking to a budget (35%), and not paying down debts (33%). Only 24% of survey respondents said they had no financial regrets about 2015. People were allowed to pick more than one regret, accounting for the total percentage exceeding 100%.
Among young people, regrets were even more pronounced. Millennials (folks ages 25-34) were more likely to regret all three of the most common woes: 58% regretted not saving more money, 50% regretted not following a budget, and 43% regretted not paying down their debt more. Less than 12% ended 2015 with no financial regrets.
Looking forward with caution
Optimism about 2016 is at a low ebb, with only 11% feeling that the year ahead will be a "great" year for their wallets. Forty percent said it'll have its highs and lows and be "okay" overall, and 30% think it'll be a "good" year with a little improvement over 2015. The remaining 19% said they have a pessimistic view of the coming year, and that they will struggle while their financial picture deteriorates.
LendingTree surveyed 2,000 Americans ages 25 and over between December 14 and 17, 2015.