The content is accurate at the time of publication and is subject to change.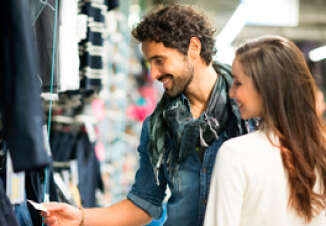 Even with online shopping and mobile apps gaining traction with consumers, they are still heading out to stores when it's time to pay for and pick up their merchandise, especially if it's a big-ticket item, according to a new study. However, researching merchandise online is still in style, with 80% of peopled indicating that they start the buying process by doing lots of online research about the product and financing options.
Synchrony Financial's Fourth Annual Major Purchase Consumer Study looked at people's attitudes when it came to shopping, spending, and financing, which also included exploring their journey from thinking about buying something to actually doing it. They looked at major purchases in 13 areas, ranging from home improvement and furnishings to sports and fitness equipment.
Quicker buys and digital tools trending
When it came to doing research for expensive items, online research is essential for many in the initial stages. Most people say they get started on their shopping excursion by using their computer, tablet or smartphone to make it easier to do some competitive analysis and zero in on the best buys. People who decided to buy online rather than head to the store, did so because it was convenient and they were getting a good or great deal, or if the item was not available in stores.
In the past, buying big-ticket items could take a while, but this year consumers are doing their research and making decisions faster, taking just 68 days to make a buy. Last year they took 80 days to do their research and mull it over. During this time they not only check out the object of their desire online, they also go the personal route by talking with friends and family, checking the item out at the store, and exploring finance options.
The in-store experience and financing is a must
For some consumers shopping at stores had some big upsides, reporting that they really liked the feeling of paying for something and taking it home right away. Others liked the experience of going to their favorite stores. For some, the in-store experience was more important than ever, with 73% doing some research in the store and 87% making in-person purchases.
So what's more important: online research or checking out items in the store? For 64% of shoppers, real-time, in-person research trumped online research.
"These insights are a valuable reminder for retailers of the importance of the in-store experience as part of a true omni-channel strategy," said Toni White, chief marketing officer, Synchrony Financial. "Providing an integrated and consistent experience across all channels bridges shoppers from online sources of information to visit a physical store, validate their choices, and ultimately purchase."
When it comes to making big purchases, financing is also a key consideration for consumers, with 75% saying that they always look for retailers offering promotional financing, while 89% indicated that financing made buying expensive buys more affordable.
Synchrony Financial's Fourth Annual Major Purchase Consumer Study was conducted by Rothstein Tauber, Inc., a global market research company, in May 2015. They spoke with 3,400 Synchrony Bank cardholders, as well as random shoppers, who during the past six months had either made a purchase costing $500 or more, or were planning on making such a purchase in the future.