The content is accurate at the time of publication and is subject to change.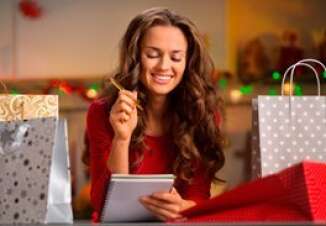 Holiday shopping was trending with consumers in 2017, according to the U.S. Retail Holiday Shopping Mid-Season Update by MasterCard SpendingPulse, showing that along with holiday cheer there was strong growth in the market, with a 3.6% upswing when compared to the data generated in 2016.
This study looked at spending trends occurring from spending November 1 through December 9. They found that there were markers in place that pointed to this growth and that it would continue. "When we look at holiday spend, it's easy to see that 2017 will likely be a good year for retailers. Unemployment is at 4.1 percent, wages are rising, consumers are confident," said Sarah Quinlan, senior vice president of market insights, MasterCard.
"It is all playing out in the shopping picture this holiday season as retailers and gift recipients would want it to," she said.
Sweet Cyber week
As part of the holiday roundup, they looked at Cyber Week (Nov. 27-Dec. 3) finding that while Black Friday is still a money maker for retailers Cyber Week is picking up enthusiasts, due to a 5% upswing, when compared to last year's numbers.
Part of the reason for the upswing in sales can be linked to heavy early-season promotions launched by retailers during a three week period starting at the beginning of November, with early bird shoppers picking up electronics, jewelry, and home improvement items. That said, according to the study all sectors showed some sort of growth – including apparel.
Home-related purchases also saw an upswing, showing 11.3% growth, while furniture purchases showed a 3.5% upswing.
Trending up across the pond too
These shopping trends do not appear to be the U.S. specific, with the same patterns showing up across the pond. The MasterCard SpendingPulse showed that holiday sales in the U.K. retail sales market experienced a 3.1% growth in November. While e-commerce showed a 12.2% upswing.
These trends across the Atlantic also mirrored those in the U.S. with people spending more in categories like electronics and furniture.
The MasterCard SpendingPulse provides insights into payment trends, based upon aggregated sales activity taking place in the MasterCard payments network, as well as survey-based estimates for additional kinds of payment types, including checks and cash.