The content is accurate at the time of publication and is subject to change.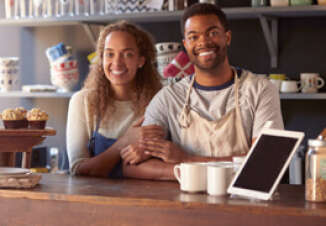 If you have felt a sense of hopefulness when visiting small and medium-sized businesses, you're in sync with the trending vibe, according to the inaugural American Express Global SME Pulse. The study found that these businesses are feeling optimistic economically and their confidence is high when it comes to how they will do in the coming year.
During the American Express Global SME Pulse, senior executives and decision makers from small- and medium-sized enterprises (SMEs) located in 15 countries, weighed in on growth and the overall economy finding that U.S. based business have more optimism about the state of the global economy than those in other countries. Over half of U.S.-based executives (54%, vs. 39% overall) feel good about the global economy over the next year, and when it comes to their local economy, their positivity was even higher (59% vs. 45% overall).
"Small and medium-sized enterprises have put strategies in place to grow product and service innovations, quickly respond to changing business demands and develop and retain skills and talent to help them thrive," said Brendan Walsh, executive vice president, Global Commercial Payments, American Express. "They are confident about and invested in the future of their businesses."
Upswing in revenue optimism
While executives are forecasting upswings in global and local economies, they are also feeling positive about their own revenues and profitability levels. With over two thirds of those in the U.S. believing that they will see a 4% growth over the coming year. (69%, vs. 58% overall). While 42% weighed in that they expect to see 8% growth, which is twice that of SMEs around the world (21%)
But what about profit? Here too, U.S. based SMEs are feeling pretty keen about the future, with 35% planning on seeing at least a net profit of 8% during the coming three years. Their strategy to grow their business includes having a more hard-hitting domestic sales and marketing strategy (48%), and right behind that is taking stock of how their customers needs are evolving (46%).
Yet there are potential threats
While SMEs are feeling optimistic, there are issues that they are concerned about, with 47% seeing economic uncertainty as a potential problem. But there are other issues they see as potential threats too, like political uncertainty (31%) and the possibility that domestic laws, regulations and policies will change (24%).
This survey was carried out by Oxford Economics via telephone. They spoke with 3,205 owners, executive board members and Chief Financial Officers/Heads of Finance working at SMEs, which have from 10 to 250 employees and earnings up to $30 million.