The content is accurate at the time of publication and is subject to change.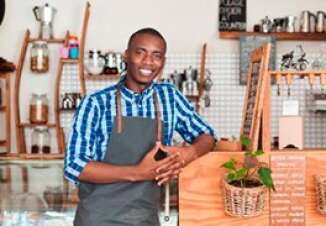 Optimism is up and on track among small businesses this quarter according to the new The Q4 Wells Fargo/Gallup Small Business Index, also finding that hiring is in the air for some of these businesses, along with upping their game when it comes to social media.
The survey was carried out between October 2 and 4 by Wells Fargo and Gallup. While optimism is on point they also found a 3% dip from the July report, which was highest index reading they have experienced in a decade.
Why the dip? They chalked it up to how business owners felt about their finances, with 71% saying that their financial outlook was very or somewhat good in October, which was down 5% when compared with July's data. Yet, even with that, it was good news, because their finances are still on par with pre-recession levels.
"It's promising to see that, in general, business owners are maintaining a positive outlook as we move toward the end of the year. Despite this quarter's modest decline, business owner optimism has improved 23 points year-over-year and is still holding steady at post-recession highs," said Andy Rowe, Wells Fargo head of Customer Segments.
"As we look ahead to 2018, it's a positive sign that business owners continue to report capital spending plans at the stronger levels achieved at the end of 2016, and that one in three are looking to add new staff," he said.
Hiring challenges and others
When it comes to hiring, it's definitely on the to-do list for small businesses, but 16% feel that keeping and hiring great people is a challenge, up 3% from the last quarter.
There are also other challenges on the horizon for small businesses, including:
• Attracting customers and bringing in new business (11%)
• Taxes (11%)
• Government regulations (11%)
• Financial stability/cash flow (8%)
Social media and new payment technology gaining ground
Technology and social media can be an important part of doing business, with the study finding that just about half are changing how they are marketing their business. When it comes to social media, 53% said that Facebook was their platform of choice. Also, more than half admitted that social media has become either very or somewhat important when it comes to marketing their wares and services.
What about e-commerce and building an online presence? The study also showed that over the coming year 53% of small business owners are planning to upgrade their websites, while 51% will be upping their online presence, via social media and online marketing techniques.
They also found that new payment technologies are becoming attractive to some business owners, with 39% now taking credit and debit cards at the register. What about taking payments using mobile devices? Here too there are strides with 33% using a mobile point-of-sale terminal, like Square, representing a 20% from January 2016.
Last but not least digital wallets are in the mix with 12% taking digital wallet payments, up 7% from January 2016.